Fall Preview: 10 Returning Shows Worth Watching!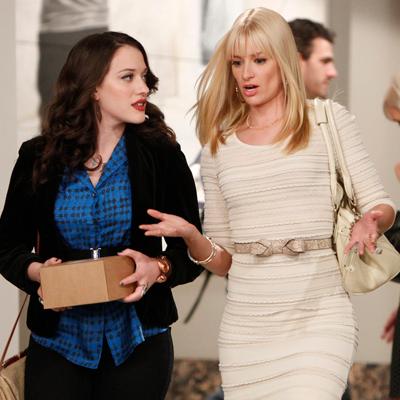 There's lots to choose from when you decide to tune-in for some fall tube-watching. Star magazine tells you what to expect on some returning favorites.
2 BROKE GIRLS
On last season's finale, Max (Kat Dennings) and Caroline (Beth Behrs) got Martha Stewart to taste their cupcakes. As season two begins, they cling to the hope that Martha will bankroll their business. (You would too, if you'd saved only $927 so far.)
Article continues below advertisement
Premieres Monday, Sept. 24, at 9PM on CBS
GLEE
As Mr. Schuester (Matthew Morrison) looks for fresh faces to sing in his glee club back at McKinley High, Rachel (Lea Michele) is in the Big Apple, trying to please a demanding dance instructor (played by Kate Hudson).
Premieres Thursday, Sept. 13, at 9PM on Fox
HAPPY ENDINGS
Season three of TV's most underrated comedy begins with Brad (Damon Wayans Jr.) looking for a new job and ditzy Alex (Elisha Cuthbert) and her ex-fiancé, Dave (Zachary Knighton), dating again. What could possibly go wrong?
Premieres Tuesday, Oct. 23, at 9PM on ABC
THE X FACTOR
Fans of the canned Paula Abdul and Nicole Scherzinger will be in mourning for all of five minutes before they're won over by new judges Britney Spears and Demi Lovato. But amazingly, the notoriously picky Simon Cowell has yet to select the show's new host (or hosts) as of press time.
Premieres Wednesday, Sept. 12, at 8PM on FOX
THE VOICE
While that other singing show trots out a new crop of judges, The Voice brings back the whole gang (host Carson Daly, coaches Christina Aguilera, Adam Levine, Cee Lo Green and Blake Shelton) to find the music world's next star.
Article continues below advertisement
Premieres Monday, Sept. 10, at 8PM on NBC
PARKS AND RECREATION
Leslie (Amy Poehler) is a Pawnee city council woman, and Ben (Adam Scott) is working in D.C., so they'll have to make a long-distance relationship work. The silver lining: When political groupie Leslie visits, she can rub elbows with the likes of Senators John McCain and Barbara Boxer.
Premieres Thursday, Sept. 20, at 9:30PM on NBC
THE OFFICE
For the hit show's ninth and final season, expect drama between Jim (John Krasinski) and Pam (Jenna Fischer), two hapless new hires (Jake Lacy, Clark Duke) and, finally, an explanation for who's been filming them all these years!
Premieres Thursday, Sept. 20, at 9PM on NBC
THE GOOD WIFE
As if her personal life weren't complicated enough, in season four Alicia Florrick (Julianna Margulies) and the rest of the lawyers at Lockhart & Gardner now have to deal with a court-appointed visitor: a humorless number cruncher played to understated perfection by Nathan Lane.
Article continues below advertisement
Premieres Sunday, Sept. 30, at 9PM on CBS
MODERN FAMILY
Now that Gloria (Sofia Vergara) is pregnant, hubby Jay (Ed O'Neill) is so nervous that he's in therapy — and Claire (Julie Bowen) is delighting in the unflattering changes to her sister-in-law's hourglass figure.
Premieres Wednesday, Sept. 26, at 9PM on ABC
VEGAS
When was the last time Dennis Quaid appeared on a TV show? "It was Baretta, back in the '70s," he remembers. But the actor just couldn't resist a chance to play Ralph Lamb, the real-life sheriff in 1960s Las Vegas, who clashes with a Chicago mobster turned casino operator (Michael Chiklis). Meanwhile, Michael promises his fedora-wearing foil isn't your typical black hat: "It's really dark navy blue."
Premieres Tuesday, Sept. 25, at 10PM on CBS