Exclusive
Who You Kidding Jason? Trawick Definitely 'Made The First Move' On Britney Spears, Says Source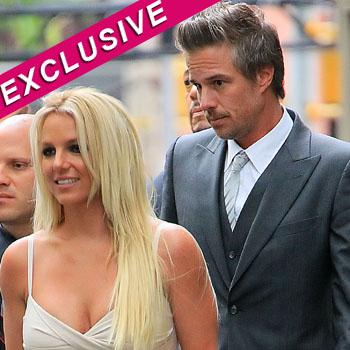 By Jen Heger - RadarOnline.com Assistant Managing Editor
Despite Jason Trawick's recent claims to the contrary, he was actually the one that first came on to now fiancee, Britney Spears, RadarOnline.com is exclusively reporting.
"Jason absolutely made the first move on Britney and it happened when they were on vacation at Mel Gibson's Costa Rican vacation home," a source close to the situation tells RadarOnline.com. "Britney's conservatorship had just been put in place, and Jason was one of the few people who was allowed to be with her at that very precarious time.
Article continues below advertisement
"Jason had feelings for Britney for a very, very long time and Costa Rica seemed like the perfect place to launch the romance. Things progressed very slowly, and over time and Britney eventually developed very strong feelings for him."
Trawick and Spears became engaged last year and several months later he was appointed co-conservator of her personal life, but has no role in her business and professional life other than being with her while filming X Factor.
The 'Toxic' singer is featured on the cover of the October issue of Elle magazine and talks about their relationship in a joint interview with Trawick. He says, "It was kind of one of those things where she moved, like, turned around, so we were face-to-face, and then..." Britney's responds, "Okay, that's enough information, sweetie. It was sweet, just say that."
"Britney hasn't given an interview to the media since the conservatorship has been put in place without a chaperone, handlers, or Jason being there," the source tells RadarOnline.com. "Britney's team dictates the terms of the interviews and pre-approves the questions beforehand and what questions are off limits. It would be very interesting to know if Britney would say the same things without all of her people are around her."
Article continues below advertisement