Meet David Alan Basche: The Actor With The 'Ex' Factor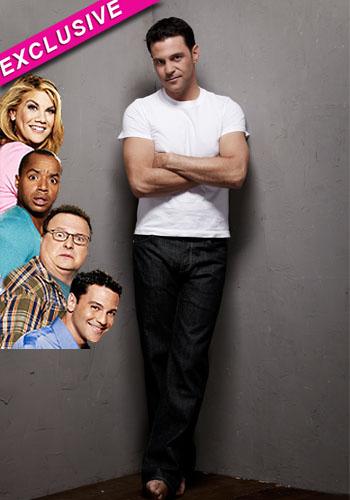 By Neil Woulfe - RadarOnline.com Senior News Director
Happy birthday David Alan Basche! The boyishly-handsome actor adds another candle to his cake on Saturday, August 25, and in honor of his big day, RadarOnline.com gets up close and personal with the star of the hit sit-com, The Exes, which airs Wednesday nights on TVLand.
A native of Connecticut, Basche is a showbiz veteran, having appeared in countless TV shows, films and stage productions.
Article continues below advertisement
RadarOnline.com spoke to David about his journey from Hartford to Hollywood, and the amazing experiences and people he's met on the path to stardom.
RadarOnline.com: First, happy birthday David! How do you plan to celebrate?
David: I'll have just arrived home in Harlem NYC after four months of filming, so that'll almost be enough of a gift, but it gets better: my wife and daughter and I will then go see my Mom and brother and sister and nieces and nephews in Old Lyme CT - first time I've been able to celebrate with them on my birthday in a long time!
RadarOnline.com: You grew up in West Hartford, CT, and I heard that you've described yourself as a "angry, smart-ass kid" in grade school and that a school counselor suggested you channel your energy into acting in the school play. True?
David: Absolutely true. Angry? Yes. Smart-ass? Definitely. My dad died suddenly when I was 6 years old, so understandably I had a hard time after that, and yes, the Norfeldt Elementary School psychologist suggested that I try out for the school musical. I was cast as Tom in "Tom Sawyer" and it was just the extra attention I needed at the time. I heard the roar of the crowd and I was hooked.
Article continues below advertisement
RadarOnline.com: Fast forward to today. Although you've done a lot of television, film, and stage work, are you being recognized more since appearing on The Exes?
David: Well, it used be that people would look at me and say to their friend "hey I think I know that guy from somewhere," but it's at a whole new level because now they'll say to their friend "hey I think I know that guy from somewhere, maybe TV shows or something." Seriously I'm not recognized much, though I have recently had fans of The Exes giving me the thumbs up in LA traffic!
RadarOnline.com: What do fans say when they approach you? Do you get people coming up to you saying crazy things like, "Hey, I'm divorced too?"
David: Actually I have had a few guys say that to me! And I'm like "um, sorry, I've been married for 15 years, but um..."
RadarOnline.com: On The Exes, you play Stuart - a caring, sweet, though somewhat slightly neurotic dentist. Does your character resemble you in any way in real life?
Article continues below advertisement
David: Stuart is slightly neurotic, while I am COMPLETELY neurotic! Otherwise, we're similar in a lot of ways. Seriously, I actually do resemble Stuart in the way I'm always cleaning and sometimes I have a corny sense of humor like he does, too.
RadarOnline.com: Although you've appeared in several comedies in the past, you're currently co-starring with some 'serious' sit-com heavyweights – Kristen Johnston (Third Rock From The Sun); Wayne Knight (Seinfeld); and Donald Faison (Scrubs). What's the atmosphere like on set?
David: It's a silly set - you get those wacky people together and how could it be anything but over-the-top fun every day? It's really a gift to go to work and laugh so much every day.
RadarOnline.com: Besides yourself (of course!), who's the funniest – off-camera - on the show? Does one of your fellow actors especially crack you up?
David: Wayne is funny in ways you just don't expect. When he says good morning, when walking past my dressing room door, I laugh. When he does impressions of old comedians, I laugh. When he waxes philosophical or gets wildly political, I laugh. He slays me.
Article continues below advertisement
RadarOnline.com: As an actor, I'm sure you've been asked to do some crazy things. What's the nuttiest thing you've been asked to do - either on The Exes or on another project?
David: Well this season there was a whole episode of The Exes entirely about the size of my penis. I had to do a few scenes completely naked, with just a dress sock covering my, um, manhood. Crazy? I think so. It was an over-the-calf length sock, by the way.
RadarOnline.com: Besides your many television credits, you've appeared in some major films, playing opposite some of the biggest names in showbiz, including Tom Cruise, Julia Roberts, Sarah Jessica Parker, to name just a few. Did anyone especially surprise you – in that they weren't at all how you expected them to be?
David: Actually Terrence Stamp surprised me! I play his right hand man in the film The Adjustment Bureau, and I was expecting a dark, brooding guy. I mean this is General Zod we're talking about here. But instead he was quiet and unassuming and quite erudite and charming.
Article continues below advertisement
RadarOnline.com: In addition to sharing the screen with some of Hollywood's biggest names, you've also been directed by such powerhouses as Steven Spielberg, Martin Scorsese, and Robert Zemeckis. Of all the films you've appeared in, does one stand out as a particularly amazing experience?
David: Working with Paul Greengrass on United 93 was absolutely a once-in-a-lifetime experience for me. The film's subject matter, shooting in London away from the US press, a great group of collaborative actors including my good friend Peter Hermann, and a director who was dedicated to telling a truthful, unsentimental story - it doesn't get any better than that.
RadarOnline.com: Although you are perhaps best known for your television and film work, you began as a stage actor. Your New York theater credits include the smash two character play Visiting Mr. Green in which you co-starred with the legendary Eli Wallach and the play SnakeBit, for which the New York Times raved about you, saying: "Basche is sensational in the role, a brash and sensitive bull-in-a-psychic-china shop." Tell me about the importance of theater in your life, and how it has shaped you as an actor.
Article continues below advertisement
David: Once in a while someone will approach me and say they remember the performances I gave in the play Snakebit or Visiting Mr. Green and I take that as a huge compliment. The theater is still my first love, and doing Shakespeare and playing in front of thousands of people live, well that prepares you for anything. I've been lucky enough to do a wide range of TV and film that I could never have done without my theater training.
RadarOnline.com: The theater is where you met your wife, actress Alysia Reiner, when you played opposite each other in Twelfth Night at the White River Theater Festival in Vermont. You're also dad to a 4-year-old daughter, Livia. Since you split your time between New York and L.A., where you tape The Exes, is it difficult balancing a personal life with the demands of a hit television show?
David: Listen, Alysia and I go where the work is. We knew what we were getting into, so the travel just becomes part of the territory, as they say. Luckily for us, Livia is a jet-setter - she likes planes and trains and boats and always reminds us that it's all just a big adventure.
Article continues below advertisement
RadarOnline.com: In addition to being involved with several charities, you and your wife are staunch environmental activists. In fact, your brownstone renovation in Harlem was featured on TV's World's Greenest Homes and Renovation Nation. What inspired your commitment to 'going green'?
David: I give credit for my "greenness" to my wife, she inspired me to make changes in our lives that were less wasteful and more ecologically minded. She's my green guru! Also, what's the harm in conserving and being environmentally friendly? Even if global warming isn't as bad as they say it is, we're still saving water and resources and teaching our kids to be respectful of the earth. I don't see the downside.
RadarOnline.com: I read that you have a tattoo on your left wrist that says "There Is No Perfect." What is the significance of that?
David: I got that tattoo soon after Livia was born. It just reminds me every day to let go of trying to control everything, and that I don't have to ever be upset that things aren't perfect, instead I can be pleased that things are exactly the way they are supposed to be.
RadarOnline.com: Finally, on a recent episode of The Exes, your wife made a special guest appearance, playing the ex-wife of Holly's boyfriend. Her scene was with you – how fun with that for both of you? Is this the first time, you've played opposite of each other on television?
Article continues below advertisement
David: Alysia and I have worked together in every medium, theater and TV and film, but this is the first time we've ever played opposite each other in a sitcom and it was really fun! And I think it was selfishly great for me: the director and writers and show runners all kept telling me how great my wife was, and that made me proud beyond belief. What a gift.
Check out a special preview of tonight's episode of The Exes.
radar_embed service=5min.com src=" http://pshared.5min.com/Scripts/PlayerSeed.js?sid=1126&width=486&height=412&playList=517708451&sequential=1&shuffle=0"
The exes airs Wednesdays at 10:30 PM/9:30c on TVLand.
Check out David's personal website.