Exclusive
Macy's Passport Presents Glamorama: Fashion's Hottest Event Coming To L.A.!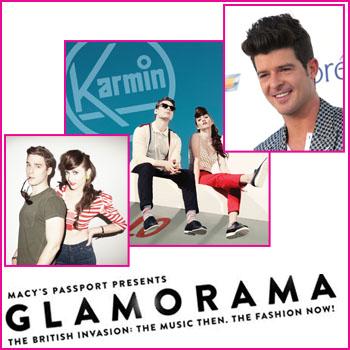 By Neil Woulfe - RadarOnline.com Senior News Director
The British are coming, the British are coming -- so roll out the red carpet!
Macy's Passport Presents Glamorama comes to the Orpheum Theatre in downtown Los Angeles on Friday, September 7, after successful stops in Minneapolis in Chicago.
This year's theme for the annual HIV/AIDS fundraiser -- founded by the late Elizabeth Taylor -- is "British Invasion: The Music Then, The Fashion Now!" R&B/soul singer and Duets 'superstar' Robin Thicke will headline the charity event and will perform, along with Karmin, the chart-topping duo comprised of Amy Heidemann and Nick Noonan.
Article continues below advertisement
In honor of the gala's 30th anniversary, RadarOnline.com talked with Karmin and with Mike Gansmoe, Producer of Glamorama and the Vice President of Special Productions for Macy's Parade & Entertainment about what we can expect at this year's fashion extravaganza.
RadarOnline.com: Hi Mike, Tell us about the theme of this year's Glamorama and about some of the highlights we can expect.
Mike: This year marks the 50th anniversary of both the Beatles and The Rolling Stones and we wanted to celebrate these iconic music legends. Our theme "The British Invasion: The Music Then, The Fashion Now!" pays tribute to the British bands that inspired culture while capturing the attention of the world.
RadarOnline.com: Tell us about some of the designers whose work we'll see at Glamorama. What are the trends coming up for fall and winter?
Mike: Our show features some amazing fashion segments by Calvin Klein, Bar III, Sean John, Material Girl and the new line Nicole Richie for Impulse, which is exclusive to Macy's and embodies her signature Bohemian style. As far as fall trends, look for the color burgundy for men and women, military influences in jackets and outerwear, and bold prints in suits. Also look for many options of leather as well as cable knit sweaters for men.
Article continues below advertisement
RadarOnline.com: Robin Thicke and Karmin are great choices to perform at the event; Robin, Amy and Nick all have such unique fashion styles. Why did Macy's choose them?
Mike: Both artists have great fashion sense and incredible musicality. Each year when we pick talent for Macy's Glamorama, we aim to deliver something for everyone who attends. The audience members who listen to catchy well-crafted pop music will love Karmin; those who enjoy soulful R&B will love Robin. And both artists play really well against each other, so it's an amazing lineup for the show. We are also introducing Megan & Liz, the winners of the Macy's iHeart Radio Rising Star contest. They're extremely talented twin sisters who have a bright future in the music business.
RadarOnline.com: Glamorama is, of course, a benefit to raise money for AIDS Project Los Angeles and Project Angel Food. Now in its 30th year, how much money has Macy's raised for AIDS/HIV organizations?
Mike: To date, we're thrilled to have raised over $30 million for local HIV/AIDS organizations in San Francisco and Los Angeles.
RadarOnline.com: At last year's event, there was an incredibly moving dedication to the late Elizabeth Taylor who worked tirelessly with Macys on behalf of AIDS/HIV prevention and awareness. How is her legacy still being felt at Glamorama?
Article continues below advertisement
Mike: Dame Elizabeth Taylor was one of the most important and influential leaders in the fight against HIV/AIDS. She was so passionate about finding a cure and she dedicated her life to this important cause. She has had a profound and lasting effect on the world as well as this event. There are many at Macy's who were close to her as she was a part of Macy's Passport since its inception. Her spirit will always live on with this show and we will do our best to carry the torch forward until we find a cure.
RadarOnline.com: Thanks Mike.
RadarOnline.com: Amy and Nick, is this your first time attending Glamorama? Excited?
Amy: So excited, these shows are so much fun!
Nick: Not our first Glamorama! We got to perform in Minneapolis and Chicago.
RadarOnline.com: What are you planning for your performance at Glamorama?
Amy: Our shows have lots of energy and for Glamorama, we try to be as fashionable as possible since it's a fashion, dance, and music show!
Article continues below advertisement
Nick: Siberian tigers. African elephants. Pyro. (Just kidding!)
RadarOnline.com: You've had the most incredible past year. Can you possibly describe the rollercoaster ride you've been on?
Amy: It's tough to describe, but we've been keeping journals and capturing video footage of the adventure so far. Rollercoaster is a great word!
Nick: We're so thankful to our fans for supporting us; they are the entire reason we're here! It's been a little overwhelming at times, but I wouldn't trade it for the world.
RadarOnline.com: Amidst all the amazing people you've met, the traveling, the concerts, what's been the highlight from this past year?
Amy: Ah, lots of things come to mind, but the most recent for me was meeting my childhood idol Brandy! I used to sit up at night in Nebraska as a little girl and play her albums over and over and over, and I credit her with a lot of my vocal facility. She couldn't have been nicer, and when she knew who I was, I lost it.
Article continues below advertisement
Nick: There's been a major highlight usually once a week these days, but overall I would have to say meeting Kayne West, playing SNL (our first live TV) before having an album out, having our first single, Brokenhearted, go Platinum, and getting to perform at the iHeart Radio Music Festival in Las Vegas last fall.
RadarOnline.com: Both of you are known for your fashion style. Describe your look and which designers in particular are you especially looking forward to seeing at Glamorama in LA?
Amy: It's impossible to pick favorites! There are so many great new looks in the show. One that stood out to me was Material Girl - Madonna's new line.
Nick: Well, thanks! It's perfect because the theme to the show happens to be British Invasion so we're loving the retro throwback styling! To be honest, I usually don't pay that much attention to the brands, just looking for clothes and pairings I would wear too.
Article continues below advertisement
RadarOnline.com: In Los Angeles, Glamorama is of course a benefit to raise money AIDS Project Los Angeles and Project Angel Food. Given your success, talk about the importance of giving back.
Amy: One of the great things about Glamorama is meeting some of the survivers and fighters - and most have been kids, just teenagers. To see them go through what they've gone through and still be so positive and strong is absolutely inspiring. These kids are amazing, and we're just happy we can help out in some way.
Nick: This was one of the main reasons we even started Karmin. It's an amazing opportunity to be in a position where you can help people and contribute. When we first started we had people help us, and I'm sure we'll need some sort of help from someone in the future, so we want to help whenever we're able too.
RadarOnline.com: Thanks Amy and Nick. Have a great time in L.A.!
For more information about Macy's Passport Presents Glamorama and to purchase tickets, click here.