Robert Blake Breaks Silence In Bombshell (And Bizarre) Interview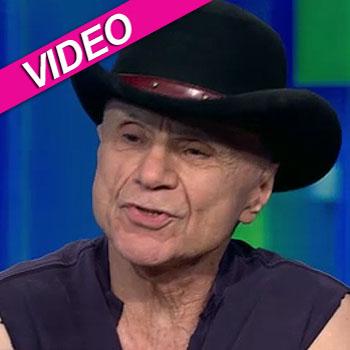 At long last, actor-turned-acquitted murder suspect Robert Blake has broken his silence.
The 78-year-old Baretta star, who was found not guilty in the May 4, 2001 murder of wife Bonnie Lee Bakley in 2005, got testy -- heck, perhaps downright belligerent -- with Piers Morgan Wednesday, when Morgan said he wasn't sure if the actor was being truthful with him about the incident.
"You want to get to the truth if you can. Does that mean I'm lying to you? Tell me where I'm lying," Blake asked Morgan, who said, "I'm not saying you're lying."
Article continues below advertisement
Blake responded, "But you say you don't know if I'm telling the truth, what the hell's the difference?"
"I'm saying I've met you for, what, 20 minutes?" Morgan said, asking the actor, "Why are you being so defensive?"
"Because you just insulted me … nobody tells me I'm a liar," Blake said. "You said I might not be telling the truth. What the hell is the difference? … I've never allowed anybody to ask me the questions that you're asking. I allowed you to do that because I trust you. And I would have assumed that you and that guy in your ear would trust me. And if you don't, then we'd better start talking about The Little Rascals."
When things calmed down, Blake said that while his relationship with Bakley "was not bad," he characterized her as a "con artist."
"I think she came to Hollywood to con her way into show business," Blake said. "I felt sorry for her sometimes because God never gave her that little piece of sunshine that he gave me."
Blake said he didn't know Bonnie "well enough to know her.
"I love her -- well, I love you as a human being. You're my brother in arms," Blake said. "We're all in this thing together. But we were not dramatically in love or things like that."
Article continues below advertisement
While Blake was acquitted of murder charges, he was later found guilty in a civil trial in Nov ember, 2005, much like O.J. Simpson was for the murders of his ex-wife Nicole Brown Simpson and Ronald Goldman.
Blake appeared on the program to promote his new memoir Tales of a Rascal: What I did for Love. In it, he said he doesn't pull any punches against the law enforcement officials he dealt with while in custody.
"I was supposed to die in that cell, wasn't I? But I didn't die. And you didn't get your book deals, you mothers! I wrote a book about you," Blake said.
Blake said he's bankrupt and friendless in the wake of the past 11 years, but he's holding out for one more hope.
"I know I'm still hurt and I may be hurt for the rest of my life," he said. "The only thing that will cure that hurt is if I get back on that bull that bucked me off and ride him. If I can go out in front of the camera, making the most beautiful film that I ever made, that's all I really want from life."
Tales of a Rascal: What I did for Love is in stores now.
RELATED STORIES: