Meet L.A.'s Ultimate 'Foodie' - Inside The Los Angeles Food & Wine Festival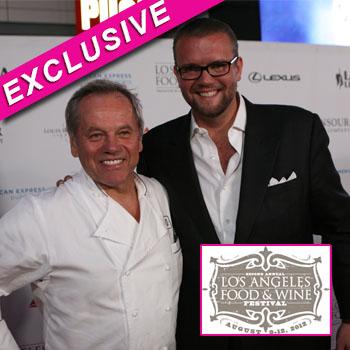 By Neil Woulfe - Radar Senior News Director
Attention foodies, start dieting now!
The second annual Los Angeles Food & Wine festival will be held August 9-12 throughout Southern California and once again, it features a mouthwatering serving of culinary events and delectable presentations by both acclaimed local and celebrity chefs, including Wolfgang Puck, Guy Fieri and Giada De Laurentiis.
The festival offers an array of gourmet lunches and dinners at some of the area's finest restaurants, including Cut, ink., and Street. It also offers a variety of presentations with tempting names like Swine & Wine: The Marriage of Pigs & Pinot, Cooking with Cheese, and The Southern Bunch, Perfected.
Article continues below advertisement
RadarOnline.com spoke with one of the festival's founders, David Alan Bernahl of Coastal Luxury Management, to find out more about the event, its history, and why it's simply not to be missed.
Radar: David, what inspired you, and your partner Robert Weakley, to found Pebble Beach Food & Wine and now Los Angeles Food & Wine, now in its second year?
David: There was an amazing event that went on for 21 years at the Park Hyatt Highlands Inn in Carmel called the Masters of Food & Wine. It was one of the most beloved food and wine events in the country due to the amazing intimacy and access you had as a consumer to some of greatest chefs in the world like Julia Child, Daniel Boulud, etc. But not just chefs, winemakers too. Guys Like Paul Pontellier from Chateau Margaux, or Aubert de Villaine from Domaine de la Romanee-Conti would be there at the wine tastings and the panels as well as pouring at the strolling receptions. It sold out every year because it was so special. My business partner, Robert Weakley, was the Food & Beverage director for the hotel at the time when Hyatt decided to turn the Highlands Inn into a timeshare-managed property, and with that, they decided to transfer this amazing event to the Park Hyatt Mendoza in Argentina! We saw an amazing opportunity not just for Monterey County, but for California as a whole.
When we started Pebble Beach Food & Wine, we remarked at how the two most recognized food & wine events were in South Beach & Aspen, a ski town and a beach community. Here we were in the salad bowl of the United States, with all of the greatest grape growing regions around us, and California didn't have a nationally-recognized culinary event. So we embarked to create what became Pebble Beach Food & Wine. PBFW in its first year was welcomed with amazing success welcoming nearly 4000 attendees, a major increase from the Masters' 650 attendees. At that point, we knew we had made the right decision and continued to make Pebble Beach Food & Wine better each and every year. In 2012, we welcomed nearly 8,000 attendees and are proud to have had a positive financial impact to local charities of hundreds of thousands of dollars.
Article continues below advertisement
Los Angeles was another opportunity that we couldn't pass up. We have been in love with LA forever. There isn't another city on the planet that offers so much in a single day than LA. You can wake up and decide to be beach time loungy in Santa Monica, surfy in Venice, Hipster in Hollywood, business in downtown, luxe in Beverly Hills, no matter what you want it's here. So we couldn't figure out how the Entertainment capital of the world, rich with so much culinary and cultural diversity, didn't have a nationally renowned food & wine event either. Additionally, there is no other city in the country that has had such an booming food scene over the past ten years. We attended Wolfgang Puck's American Wine & Food Festival for years which was phenomenal because of the quality of chefs and wineries, but it was only two events and in order to be a national destination event would need to be much bigger.
We felt that Los Angeles was prime for hosting the most amazing food & wine event in the world so we decided to talk to our good friend Wolfgang Puck about taking the AWFF and transforming it into a massively and ridiculously amazing food & wine event, while continuing to raise money for St. Vincent Meals on Wheels. He loved the idea and LAFW was formed. About the same time our partnership with LA Live and AEG came together. At this point we had one of the greatest chefs in country and one of the greatest venues in the country and we were off to the races. Our partners at Lexus and Food & Wine Magazine were with us from day 1 and its been amazing ever since. We welcomed nearly 15,000 guests, 100 celebrity chefs, and 200 wineries from around the world to our inaugural event.
Article continues below advertisement
Radar: What are some of the highlights of Los Angeles Food & Wine that people can look forward to?
David: It's all about pairing some of the greatest LA chefs with some of the best chefs from around the country. It's not every day you can have a mix of 25 chefs from 15 different cities -- all from impossible-to-get-into restaurants -- while that are preparing dishes right in front of you while you decide which of the 250 amazing wines you want to drink, which are each being poured by a winemaker or someone from that winery that KNOWS what they're talking about! All of this at one party at the same time.
I think that the Lexus Live in the Plaza Event with a live performance from Third Eye Blind will be amazing! The ability to enjoy a live musical performance while enjoying food from 25 celeb chefs and choosing from 200 wines -- all on 60,000 square feet of red carpet out on Nokia Plaza. Let me put it this way, it's not to be missed. But the whole weekend is crazy. We've got Giada De Laurentiis hosting Festa Italiana, Andrew Zimmern hosting our Asian Night Market, and the Santa Monica events are going to be ridiculous. Fig is closing its doors for this special dinner featuring a quadrumvirate of Santa Monica chefs like Ray Garcia and Josiah Citrin. Outside at the Fairmont at Summer at the Shore, celeb chef/ host Graham Elliott Bowles is creating his own beach for his station featuring Sea Urchin and the whole nine yards! Then there's I Heart Champagne and Caviar hosted by Sang Yoon... need I say more... if you like prestige cuvee champagne and caviar... then well...
Article continues below advertisement
Radar: Los Angeles Food & Wine will feature a host of celebrity chefs -- any personal favorites that you're especially a big fan of?
David: You're going to get me in trouble... I love them all :)
Radar: The festival will also feature some amazing local chefs. Can you name one (or a few) in particular who are doing really interesting things on the culinary front here in Los Angeles?
David: I think that Ray Garcia at Fig has been killing it, a real commitment to farm to table. Roy Choi's A Frame is killer. Technically perfect execution with playfully inspired dishes that have a sense of attitude. David LeFevre from MB Post has been witnessing wild success for good reason. He's delivering delicious fresh ingredients with a sense of personality in dishes that deliver a tremendous amount of flavor. Love it! Ricardo Zarate is another that has taken Peruvian food and put it on a pedestal in LA due to his commitment to classic flavors with inspired twists. Downtown Bryant Ng from Spice Table and Jeremy Berlin at Church & State are repeating the awesomeness with concepts that are casual yet show their well-travelled pedigree. Sang Yoon most renowned for Fathers Office has been doing it for awhile as well, but he continues to push forward with Lukshon, which is not to be missed.
Radar: When did you realize that food could be an art form? We're you an aspiring foodie as a kid?
David: I was lucky as a child -- both my mom and dad were great cooks, and they both loved to dine out. They brought me everywhere. I started wanting to grab the frying pan when I was 6. I started cooking when I was 10, and now for Thanksgiving I indulge in producing an eight-course dinner for friends and family. My business partner Rob and I will spend the day in the kitchen with books like Under Pressure, French Laundry, Alinea, Le bernardin, all spread around so we can execute Keller's Oysters and Pearls or one of Grant Achatz' crazy creations. For me, I relax when I cook. It's about being as good as you can be at what you're doing right at that moment. The artistic side kicks in both with recipe creation or adaptation as well as when you plate your creation. It becomes personal. Even for me at home. Like an any artist, chefs put their heart and soul into each dish like a blank canvas, and the goal is to get a reaction -- hopefully always a delicious one, but sometimes a cerebral one as well. If I had time, I would go to cooking school just so I could have more fun with my immersion circulator.
Article continues below advertisement
Radar: For fine dining, what is your favorite restaurant(s) to dine at in the Los Angeles area?
David: It's a mood thing, but I'd say that it would have to be between the amazingly talented Josiah Citrin's Melisse and Michael Cimarusti's Providence. The guys are killing it there.
Radar: In your opinion, what is the most romantic restaurant in the area?
David: Wolfgang Puck's restaurant at Hotel Bel Air is beautiful as is the restaurant at Terranea, Mar' Sel has sweeping water views and a fire-lit dining room with great wine list on a stunning property.
Radar: What is your favorite hole-in-the-wall 'dive' in the area?
David: Gotta go with the Gas Lite in Santa Monica. I mean, you can buy the whole bar a drink for around a hundred bucks and some of the people that get up to sing are actually rockstars!
Radar: Finally, what is your favorite meal of all time?
David: I've been lucky enough to have transcendent meals at Daniel, French Laundry, Le Bernardin, Alinea, etc. and the lines get blurred when it comes to which of the perfect meals were more perfect than the other perfect meal... at the end of the day for me, it's about having the ones you love around you. It makes everything taste better!