'Catwoman' Jocelyne Wildenstein Sued For Backing Out Of Documentary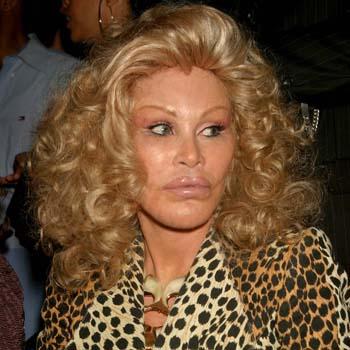 Jocelyne Wildenstein, the multimillionaire who had countless plastic surgeries to make her look like a cat, is being sued for allegedly pulling out of a deal to appear in a documentary and then refusing to return the advance she'd been paid.
In papers filed in Manhattan Supreme Court, Transparent Television says it contracted with Wildenstein and her designer boyfriend Lloyd Klein in 2007 to appear in a film called The Glamorous World of Lloyd and Jocelyne.
Article continues below advertisement
They were to receive $100,000 for 15 days of shooting, reports The New York Post with $25,000 of that paid upfront.
But when it came time for the cameras to roll in 2008, the so-called Bride of Wildenstein pulled a vanishing act and breached the contract, claim exes from Transparent.
They now want way more than their $25,000 back. Transparent Television has asked the court to award it $700,000 in damages.