A-List Gridlock At Spike TV's Annual Guys Choice Awards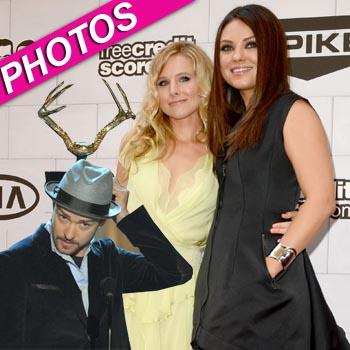 What started out as a fun and funky awards show a few years ago is now one of the Must Events of the Year in Hollywood. Spike TV's 6th Annual Guys Choice Awards brought out Justin Timberlake, honored with the Troops Choice Award, Emma Stone, who won the Hot & Funny category, and Kobe Bryant, named Best Baller.
Vince Vaughn, Luke Wilson and Will Ferrell reunited for the induction of their classic comedy, Old School, into the Guy Movie Hall of Fame.
Article continues below advertisement
Mila Kunis, Juliane Hough, Malin Akerman and Kate Beckinsale kept the hotness quota up.
Real-life lovebirds Dax Shepherd and Kristen Bell came arm-in-arm.
But Sadly Matthew McConaughey and Mark Wahlberg disappointed by not showing off their abs.
The special will air on Spike June 9.
RELATED STORIES: