Mary-Kate's Twisted New Romance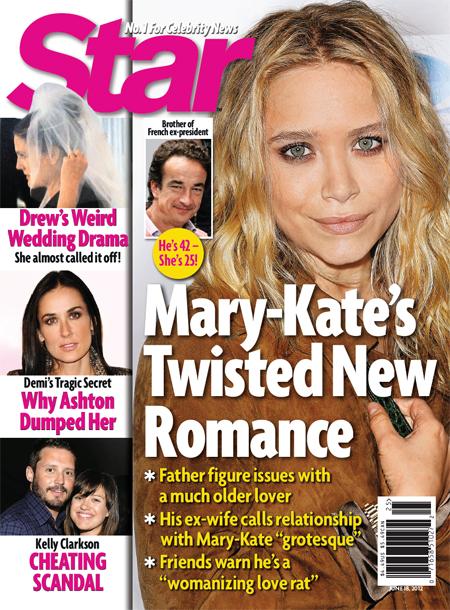 Mary-Kate Olsen's new man has swept her off her feet, and friends fear he's set her up for a very hard fall.
He is Olivier Sarkozy, playboy and half brother of former French president Nicolas Sarkozy, And, much to the distress of Mary- Kate's friends and family, they are lovers.
According to sources close to Mary- Kate, 25, she's been "head over heels" for Olivier, 42, ever since they met at a party in early April. But they also warn that the fashion designer could be in a toxic relationship that's damaging to the two most important things in her world: her fashion empire and her relationship with her twin sister, Ashley.
Article continues below advertisement
A source tells Star, Mary-Kate may think she's in love and being swept off her feet now, but before long she'll realize she's just one of many women that he's making pancakes for in the morning."
Upon hearing that her ex-husband was dating Mary-Kate, Olivier's ex-wife, Charlotte, was far more blunt. "That's not right. It's grotesque!" she said.
Mary-Kate, 25, may be dating the older man because of "daddy issues," says a source. "Mary-Kate's parents divorced when she was only 9," the insider tells Star. "It makes sense for her to go for an older guy who is like a father figure in her life."
Pick up this week's issue of Star, on newsstands now, for all the details!