Viral Video Alert: Hilarious 'I Wanna Hold Your Hand' Prank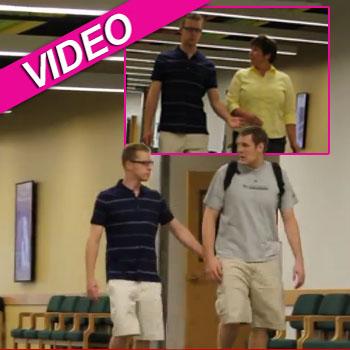 A new short clip titled "Holding People's Hand" is the latest viral sensation to burn up Youtube, garnering nearly 750,000 views in less than two days.
The premise of the sociological experiment is simple: A 22-year-old public relations student (his name is Andrew Hales) walks alongside his peers at an academic institution (Utah Valley University in Orem, Utah), trying to nonchalantly hold people's hands, male or female.
Article continues below advertisement
As you'll see, reactions vary from hostility to welcoming, but mostly surprised. Hales told ABC News, "There's always a few people that are uncomfortable with it and we always ask them afterwards if they want to be in the video.
Watch the video on RadarOnline.com
"We just come up with them like what would be funny to do and interesting to film and just what would be awkward in public, you know."
Fun Fact: I Want to Hold Your Hand remains The Beatles' top-selling single internationally.