Just Married! Giovanni Ribisi Secretly Weds Supermodel Agyness Deyn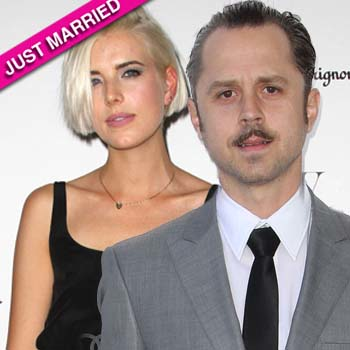 It's definitely a surprise wedding when most people don't even know that you are dating!
Giovanni Ribisi is a married man after tying the knot last weekend to supermodel Agyness Deyn in Los Angeles, the actor's rep confirmed on Thursday – and RadarOnline.com has the details about the whirlwind romance.
The Crown City News was the first publication to report the union, after randomly spotting the couple in line at the Los Angeles County Registrar on Friday afternoon.
Article continues below advertisement
"He was passionately kissing a young blond-haired woman with an English accent," the onlooker said about the 37-year-old actor and his 29-year-old bride.
"They must have kissed passionately at least three times in line, not seeming to care who was watching."
Ribisi, a Scientologist, dished that he was getting married and when asked how long the two had been together "they looked at each other and kind of smiled, and he vaguely said, 'A while.'"