Celebrity Mom Report Cards!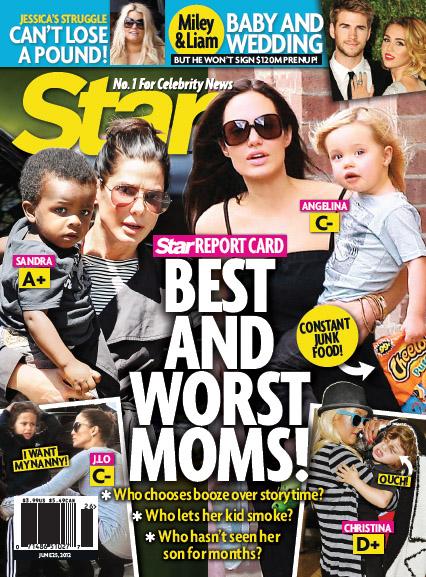 As the school year ends around the country, Star evaluates which celeb moms need extra work this summer and which make the grade!
Mom: Sandra Bullock
Kids: Louis, 2
The Oscar-winning actress is a mom with honors. She pride s herself on taking care of her adorable adopted son, even exclaiming when Louis was a baby, "I do not want anyone else to have the pleasure of changing poopy diapers but me!"
Grade: A+
Article continues below advertisement
Mom: Jennifer Lopez
Kids: Max and Emme, 4
Between partying with boy toy Casper Smart and concentrating on her career, J.Lo is leaving the nannies to take care of the twins.
Grade: C-
Mom: Heidi Klum
Kids: Leni, 8, Henry, 6, Johan, 5, Lou, 2
Despite her divorce from Seal, the striking model remains a devoted mom , rarely seen in public without the kids and usually enjoying fun activities, like the movies or the zoo.
Grade: B+
Mom: Alicia Silverstone
Kids: Bear Blu, 13 months
The vegan Clueless star takes attachment parenting too far — feeding her son like a bird by chewing food and then regurgitating it into his mouth. Little Bear is never gonna hear the end of this when he gets to grade school!
Grade: C+
Mom: Reese Witherspoon
Kids: Ava, 13, Deacon, 9
At 23, Reese was mature enough to handle the tricky balance between motherhood and fame and the clean-cut celeb continues to do so with a third child on the way.
Grade: A-
Pick up Star for more celeb mommy report cards!