Travolta Sex Scandal: Kelly's Private Hell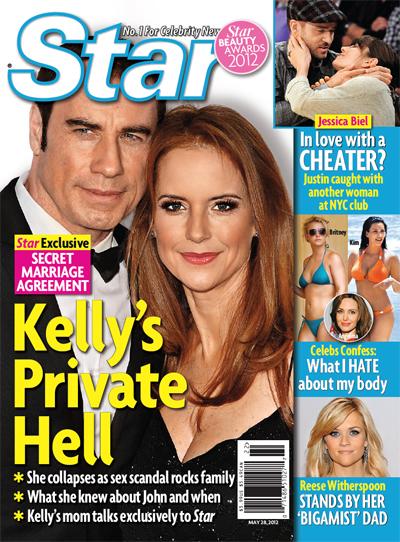 As allegations stream in that John Travolta has aggressively sought sex from masseurs, Kelly Preston, his wife of 21 years is devastated.
"Kelly's whole world is crashing down. She's going through a private hell — and, worst of all, Kelly is left wondering when the men will stop coming out of the woodwork. It's like a nightmare she can't wake up from," a source tells Star.
When the flood of accusations against John erupted, Kelly broke down in her Florida home. "Kelly was suddenly besieged by the reports of John's secret sex life. She couldn't escape the constant phone calls and texts from friends and family asking if she was OK. Kelly felt like she had nowhere to turn."
Article continues below advertisement
When Kelly's 12-year-old daughter, Ella, asked her what was going on, she couldn't hide her pain.
"Kelly had to leave the room — she couldn't take it," claims the insider. "When she was alone, she fell to the floor in a flood of tears. Suddenly, Kelly feels like she's been living a lie for two decades, and it's like a knife to the heart."
Kelly has been laying low since the scandal broke. She appeared on Lifetime's The Conversation with Amanda de Cadenet, which was taped before the allegations came to light, and declared about her and John's marriage: "Our kids are the center of our universe." She also admitted to getting sober for the sake of her family. "It's different in that I'm so much wiser," Kelly explained. "I know myself so much more now."
The private state of her relationship, however, is another story. "The gay allegations are tearing John and Kelly's marriage apart," says an insider. "Kelly is torn because some of her friends are urging her to pack up and leave John, while others are suggesting she stand by her man. She's in terrible pain. She can't believe this is what her life has come to."
"It's definitely crazy that she could stand by him through all of this," a family source tells Star. Yet another family member, Kelly's mom, Linda Carlson, seemed to be sticking to the same line that Kelly and John have been publicly pushing for years: "Please don't believe the trash out there. It's such trash. Absolute rubbish," Linda tells Star. "They couldn't be happier. They're over the moon." Even if the allegations are untrue, given their similarity and the weight of decades of similar accusations, it's hard to believe that either of them could be happy right now.