Spring's Leading Ladies: Cameron, Kristen & More Take Over The Big Screen!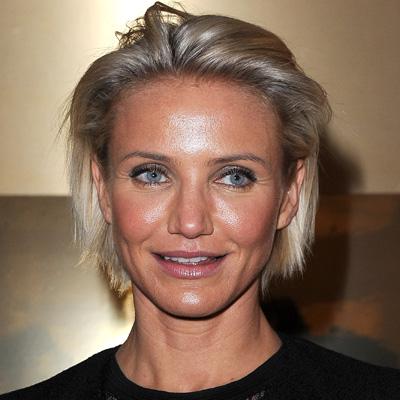 From reimagined fairy tales to raunchy comedies and even some sci-fi fantasies, these women are headlining the season's biggest movies.
Cameron Diaz
WHAT TO EXPECT WHEN YOU'RE EXPECTING
"It was really hard to sit down!" says Cameron Diaz about strapping on a giant prosthetic belly for this comedy based on the best-selling baby manual. So did playing a mother-to-be along with her costars, including Jennifer Lopez and Elizabeth Banks, get Cameron's biological clock ticking? "Oh my gosh, I'm not worried about that," she says. "I don't think that belly is what I should base wanting to be a mama on."
Article continues below advertisement
Opens May 18
Kristen Stewart
SNOW WHITE AND THE HUNTSMAN
Kristen Stewart's Snow White isn't just a timeless beauty; she's also part Joan of Arc, leading an army of knights to battle her evil stepmother (Charlize Theron), who wants to eat Snow's still-beating heart. But Kristen is glad not to be playing a blushing Bella. "It's so rare to have a female lead character be so proactive," she says. "She pushes her own story forward. It's always good for women to feel empowered."
Opens June 1
Maggie Gyllenhaal
HYSTERIA
There's one advantage to starring in the true story of the doctor who invented the vibrator: "By the time I finished the movie, I'd been sent maybe 15 vibrators by different people in London with vibrator stores," says Maggie Gyllenhaal. And like her character, Charlotte, a 19th-century British women's rights activist who doesn't buy the idea that hysteria — a catchall diagnosis that once covered everything from insomnia to toothaches — is a real malady, Maggie's glad to help others. "I lend them to my friends. They'll take them for six months at a time."
MORE ON:
Maggie Gyllenhaal
Article continues below advertisement
Opens May 18
Rihanna
BATTLESHIP
The pop star plays a tough-as-nails Navy officer in this battle of alien invaders vs. the U.S. Navy. "I thought it was the perfect vehicle to kick off my movie career," says Rihanna, who prepared by hitting the gym and watching femme-fighting flicks such as Salt and G.I. Jane. "I'm not glamorous in any way. I'm just one of the guys — no singing, no love life." Still, Rihanna has caught the acting bug, and she even hints that a romantic comedy could be next.
Opens May 18
Charlize Theron
PROMETHEUS
In this futuristic sci-fi flick that may or may not be an Alien prequel, explorers visit a planet that holds clues to the origins of life on Earth. Bankrolling the expedition is Meredith Vickers (Theron), a corporate bigwig who's most worried about the bottom line. What could possibly go wrong? "I would always be in the corner, lurking over everybody and not saying anything," says Charlize. "It adds to the enigma of what her agenda really is."
Opens June 8
Anna Faris
THE DICTATOR
When a brutal North African warlord (Sacha Baron Cohen) loses his power and is lost in New York, he's taken in by kindhearted vegan Zoey (Faris). What follows is an unlikely romance that is hilariously offensive. But Anna isn't worried about ticking off any one group. "What we've got going for us is it will be universally offensive."
Opens May 16