Get A Pedicure! Lisa Rinna Shows Off Her Funky Feet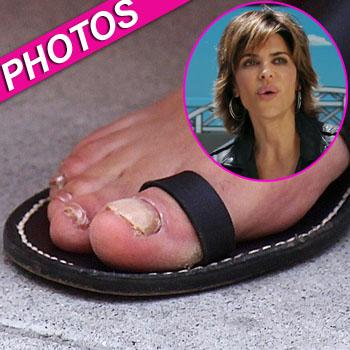 Lisa Rinna has no problem dropping wads of cash on cosmetic surgery, but apparently she can't be bothered with getting a $20 pedicure!
The 48-year-old actress, who has never been shy about sharing her plastic surgery and injectable stories with the public, hit the streets of Beverly Hills on Thursday showing off her extremely crusty, funky feet – and RadarOnline.com has the photos.
Rinna, who usually looks perfectly put together and flawlessly faced, was being interviewed by QVC commentator Amy Stran for the shopping network –- and apparently she forgot to get a pedicure before the cameras started rolling, revealing yellow and dead-looking toenails in black sandals.
Article continues below advertisement