Exclusive
Up Close With Director/Choreographer Jamie King: Music's $2 Billion Man!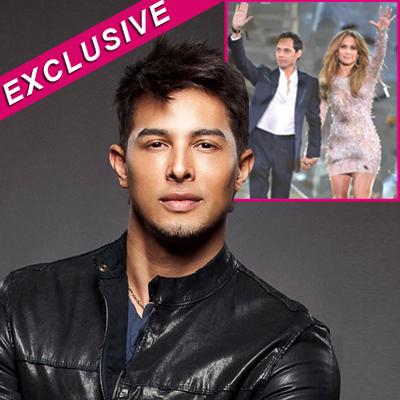 Radar Senior News Director
Jamie King is aptly named -- he is, without a doubt, the King of the Blockbuster Concert.
King's work directing 20 concerts for some of music's biggest names has grossed more than $2 billion in ticket sales to date, making him live music's most respected and sought out director and choreographer in the world today. Several months ago, Variety honored King with a special 12-page career tribute issue appropriately titled, "Variety's Billion Dollar Tour Director." (Note: they were off by a billion!)
Article continues below advertisement
Fresh off a string of triumphs, which includes Rihanna's Loud tour, Britney Spears' Femme Fatale tour, Madonna's Super Bowl Halftime Show, and Cirque du Soleil's Michael Jackson Immortal World Tour, the multi-talented King - a former dancer from Madison, Wisconsin - recently mounted a 90-minute concert extravaganza, Q'Viva! The Chosen Live, at the Mandalay Bay Events Center in Las Vegas.
The spectacular one-night-only live show was inspired by the groundbreaking television show Q'Viva! The Chosen, which was co-created by King and American Idol mogul Simon Fuller. The program was seen weekly by more than 30 million television viewers across 21 countries in the Americas earlier this year. It followed King, as well as Jennifer Lopez and Marc Anthony as they searched for the greatest undiscovered talent in Latin America.
During its run, King, Lopez and Anthony auditioned thousands of unknown singers, dancers, musicians and performers of all kinds. In the end, 52 amazing artists were chosen to perform at the Mandalay Bay Events Center in Vegas before a sold-out crowd of 8,000 screaming fans on Saturday, May 26. In addition, Lopez and Anthony each took to the stage and performed two dazzling numbers, separately, as part of the concert. At the end of the show, the crowd went crazy when J.Lo and Anthony emerged hand-in-hand for a final bow, before embracing.
Article continues below advertisement
After the show, RadarOnline.com met up with the charismatic and boyishly-handsome King backstage at the Mandalay Bay to talk about his extraordinary career, the many superstars he's worked with, and his latest triumph.
Radar: Q'Viva! was absolutely amazing – it was truly an EXPLOSION of music, dance and color! With so many varied acts performing at a rapid fire pace over 90 minutes, what was the most challenging part about staging the show?
Jamie: All of it! Q'Viva! was a multi-year adventure encompassing a televised 22-country talent search that resulted in Jennifer, Marc and I selecting and bringing hundreds of contestants to Los Angeles, selecting and housing our 52 finalists here, and putting them through an aggressive six weeks of rehearsals in order to launch the live show in Vegas. Ultimately, the entire project was challenging -- one of the most challenging projects of my career. Considering almost all of our cast are non-English speaking people and considering the vast majority of them have never performed in a major production and only a handful have technical training, it's a miracle we were able to create such an exciting production and THEY are the reason it came off so well. This cast and the entire production team involved gave this project 100 percent.
Article continues below advertisement
Radar: You're certainly known for tackling big shows that would, without a doubt, intimidate most directors. Where did Q'Viva! rank on the scale of difficulty from your past projects?
Jamie: This was especially complicated because I executive produced the series with my partners Simon Fuller, Jennifer Lopez and Marc Anthony, while at the same time I appeared on camera weekly in the series AND had the task of creating and directing the live stage show. This was a highly unusual multi-tasking journey that challenged me every way imaginable. That said, I love big challenges. That's where the magic happens.
Radar: You've devoted the past four years to working on Q'Viva! along with Jennifer Lopez and Marc Anthony. Of course, during that time, their marriage ended. How did that impact the production?
Jamie: Actually Simon Fuller and I started developing Q'Viva! nearly four years ago, including my traveling to Sao Paolo, Brazil venturing into their communities (including their favelas -- impoverished shanty-towns that are considered to be some of the most dangerous in the world) to find talent and shoot our "sizzle reel" to start developing the show. Marc and Jennifer came on board last year, filled with passion and enthusiasm for the project. The four of us instantly bonded and shared our excitement for Q'Viva! -- this crazy dream -- and their personal relationship had no bearing on the respect they brought to the project. They are lovely people and dedicated professionals.
Article continues below advertisement
Radar: Judging from the finale of Q'Viva! last Saturday night in Las Vegas, J.Lo and Anthony are in a good place. Although both performed each two songs separately, the audience went nuts when they emerged holding hands to take a final bow and then embraced at the end of the show. What went through your mind when you saw them hug in what really seemed to be genuine affection?
Jamie: I don't doubt for a second that it was genuine affection. I've spent a lot of time with them individually and together. They were friends and professional colleagues long before they became a couple and needless to say they now have two beautiful children together so no matter what choices they have made related to their personal relationship, I don't doubt for a second that they truly love one another and will continue to respectfully present themselves and honor the family they built.
Radar: I understand J.Lo's new beau, Casper Smart, was also there and everyone gets along well. Since we don't know a lot about Casper, what's he like as a person?
Jamie: Casper is smart, sensitive, passionate, outspoken and charming. He loves dance. I love dance. What more can I say?
Radar: You taped the finale of Q'Viva! using multi-cameras. Any plans to release it theatrically as a concert film?
Jamie: We are pausing for a moment to consider our options. We had numerous network partners who broadcast the series and we need to consider them and all other platforms of release including theatrical, television and DVD. It would be cool to see the filmed version on a big screen.
Article continues below advertisement
Radar: Why did you choose to celebrate Latin music and arts? How did that happen?
Jamie: There's no music like Latin music. The sounds, the instruments, the authentic regional influences. When you hear good Latin music, you simply must dance. My first experience working with Latin artists was with Ricky Martin. I directed his breakthrough performance at the Grammy Awards and I directed both his Black and White and Livin' La Vida Loca world tours. There's no doubt about it -- Latin people invented the word passion and Latin music is sexy, sexual, pulsating and at times primal (not to mention Latin food is so damn good!).
Radar: Will there be another Q'Viva!, much like how shows like American Idol and The Voice continually search out new talent?
Jamie: We have offers to create a second season but those decisions have not yet been made. My partner Simon Fuller is a genius and I'm following his lead as to how we can best enhance the Q'Viva! brand. All I know is that there are so many not yet discovered artists all over the world and if I can be a part of helping those most deserving find their moment in the spotlight, it will be a great personal achievement. Great talent should be seen and heard and celebrated. It's rare.
Article continues below advertisement
Radar: Speaking of American Idol, at this time, Jennifer has yet to announce if she's coming back next season. Do you hope she returns to idol, and what, in your view, does she bring to the table as a judge that another artist might not?
Jamie: I hope she does what she's passionate about doing. Jennifer is a consummate professional. She brings a lifetime of achievement as a dancer, singer and actress to the table and she's smart. She's spent her entire adult life in the spotlight and on stages and understands the complexities of live performance. I think she brings sizzle and smarts ... and she's sexy!
Radar: Of the 52 artists showcasing their extraordinary talents in the Q'Viva! finale, do you have a personal favorite?
Jamie: These 52 artists are my favorites. I had thousands to choose from, literally. The selection process was grueling and I think every person up there on that stage earned their chance to be part of this show. I have a special spot in my heart for the kids in Swing Salsa. The living conditions they come from are very, very difficult. Many have suffered real personal trauma and hardships. That said, I don't have favorites.
Article continues below advertisement
Radar: You've worked with many of the biggest names in the music business, including Madonna, Britney Spears, Christina Aguilera, and Rihanna, to name just a few. Is it difficult to direct superstars?
Jamie: No. It's difficult for me to keep up with their gifts. They inspire me. They challenge me. They wouldn't be legends and superstars if they didn't push and demand and strive to be the best.
Radar: Britney Spears recently joined The X Factor as a judge. Since you've worked closely with her on her Femme Fatale tour, what kind of judge would you imagine her to be?
Jamie: Britney will be a fantastic judge! Britney knows a lot. She's been at this since she was a child. I know her well and she has thoughtful ideas and a special view of the world. I think she will be fun and insightful and I can't wait to watch.
Radar: Do you have a favorite artist you particularly enjoy working with?
Jamie: I've been with Madonna for 16 years. I don't like using the word favorite as it's disrespectful to my other artists. That said, Madonna and I share a very close personal bond. We have been through so very much together. She's family to me so our working relationship rises to a different level.
Article continues below advertisement
Radar: As someone who worked closely with Michael Jackson, what was he like personally and what would he think about Cirque du Soleil's Michael Jackson Immortal World Tour that you recently wrote and directed?
Jamie: Michael was a genius. Period. I learned nearly everything I know about live performance from him. He was incredibly smart, a perfectionist. A showman extraordinaire. I was completely honored to be asked by the Jackson estate and Michael's family, along with the owner of Cirque du Soleil, to write and direct the Immortal World Tour. I know his mother and children love the show, as do his brothers. They have expressed their feelings after having attended the premiere. I hope that Michael is looking down on our creation with a smile. My goal was to honor him and share his spirit with the world.
Radar: You were in the Super Bowl Halftime Show performing alongside Michael Jackson. You came back this year as the director of Madonna's Super Bowl halftime spectacle. What was that like for you?
Jamie: Mind-blowing. To be there once was jaw-dropping. The second time I was there with Diana Ross, having choreographed her halftime show. To be at the Superbowl a third time, as Madonna's director, is the stuff dreams are made of. I mean come on, Michael Jackson .... Diana Ross .... Madonna ... the SUPER BOWL? Just thinking about these moments makes me wonder, "How?"
Article continues below advertisement
Radar: You've truly worked with the biggest names in Hollywood. Is there anyone left you'd most like to meet and why?
Jamie: I'd like to meet Oprah, because she's incredibly business savvy. She's a warrior of the light, a truly spiritual woman who is a leader. She is wise, creative, beautiful, talented and very, very smart ... all the things i love in a person. I'd love to collaborate with her to inspire positive change in the world.
Radar: The audience at the Mandalay Bay Events Center certainly showed you a lot of love and treated you like a true rock star! (You must have posed for hundreds of photographs with adoring fans!) As someone who spends a majority of his time behind the scenes in support of and working with superstar talent, what has it been like to become a celebrity in your own right?
Jamie: Wonderfully terrifying. I love every awful moment. It's strange yet comfortable. I've been at this for 20 years now, including sharing the stage with Michael Jackson for two years on the Dangerous Tour so I have experienced the heat of fame before. It's intoxicating, but can also be exhausting.
Article continues below advertisement
Radar: what is the secret to your success?
Jamie: I follow my heart. I'm open to new ideas -- always. I have a small team of extraordinary people around me and I challenge them every day to be the best they can be and to truly believe in what we are doing together. I accept the challenges they throw at me, because that's how we all grow. I try to listen closely and act from a place of compassion and passion combined. Ultimately, I believe good people lead to good experiences.
Radar: I understand you have a killer team of people working with you. Who is on your day-to-day team and who was your core team on Q'Viva! Live?
Jamie: My longtime agents Julie McDonald and Tony Selznick and my manager Daniel Sladek are my sharks. My associate director Carla Kama has been by my side on many tours, and my assistant director Jill Hillier was a true warrior during the live show rehearsals and production. Felipe Pimiento was my executive producer of the arena show, along with members of Simon Fuller's staff. Our musical director David Cabrerra delivered an abundance of gifts and my supervising choreographer Liz Imperio brought her A game.
Article continues below advertisement
Radar: Finally, what's next for you?
Jamie: Currently, I'm producing Madonna's tour which opens today in Tel Aviv. I'm also directing Jennifer Lopez's tour, which launches in June. I'm writing and directing the new Cirque du Soleil Michael Jackson permanent show at the Mandalay Bay Theater in Las Vegas which opens next May. I'm also launching the new boy band IM5 in partnership with Simon Fuller and Perez Hilton. I've got a few other projects in the wings, but those are my current passion projects. I'm always looking for a new challenge ... or three.
For more information about Q'Viva! The Chosen, go to www.qvivathechosen.com
radar_embed service=5min.com src=" http://pshared.5min.com/Scripts/PlayerSeed.js?sid=1126&width=486&height=412&playList=517713735&sequential=1&shuffle=0"
radar_embed service=5min.com src=" http://pshared.5min.com/Scripts/PlayerSeed.js?sid=1126&width=486&height=412&playList=517713733&sequential=1&shuffle=0"