The Bachelorette: Who Was Eliminated?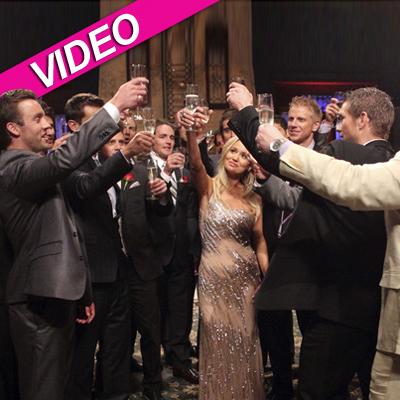 Alessandro, Tony and Stevie were given the heave-ho after rubbing the 26-year-old North Carolina native the wrong way, in different ways.
Tony broke off from the group date because he missed his 5-year-old son, who he tearily called on the phone, leading Emily to send him home saying she "would never be able to forgive herself" for separating parent and child.
She told him, "I want you to be with your son" and sent him on his way.
Article continues below advertisement
EXCLUSIVE PHOTOS: Bachelor Reunion Pics
Also getting the goodbye was Alessandro, after making the fatal mistake of telling Emily he saw dating a single mother as a compromise in and of itself.
"I am not looking for someone who sees my daughter and I as a compromise," Emily said. "I'm looking for someone who sees my daughter and I and says, 'I am the luckiest guy ever to walk this earth. How did I get this lucky?'"
Later, at the rose ceremony, Stevie was short a rose, falling victim to the show's numbers crunch.
Now, for the romance...
Emily, a huge country music buff, took hunky race car driver Arie to the park, where they rode rides, played carny games and took in a performance from Dolly herself, to which a starstruck Emily pronounced, "I could die!"
Later on, Arie told Emily -- the first single mom in the show's eight-season history -- that he once dated a mother-of-two and he missed her kids after they split.
Article continues below advertisement
The Bachelor's Chris Harrison & Wife Split After 18 Years Of Marriage
"I don't have a whole lot of talents, but I am a good mom," Emily told him.
Sparks flew between Emily and Chris on their one-on-one date, as she admitted she had a Stetson-sized crush on the Illinois native.
"If I saw you across the bar, I would not talk to you," Emily told him. "I would be too nervous to talk to you."
She lated admitted Chris "has been at the top of my list since night one."
Watch the video on RadarOnline.com
As RadarOnline.com previously reported, Emily has a 6-year-old daughter named Ricki. Emily's former fiancée, NASCAR driver Ricky Hendrick, was involved in an auto accident that ended his career, and later died in a 2004 plane crash while she was pregnant with Ricki.
Emily follows in the footsteps of past Bachelorettes such as Trista Rehn, Meredith Phillips, Jennifer Schefft, DeAnna Pappas, Jillian Harris and Ali Fedotowsky.
Article continues below advertisement