Bryce Dallas Howard Struggling With Weight Months After Giving Birth To Baby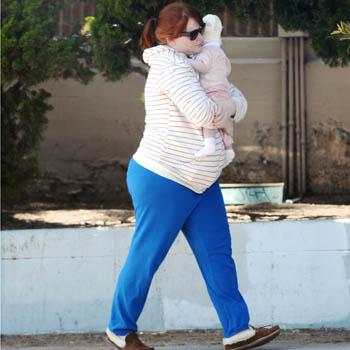 It's refreshing to see that not all Hollywood stars immediately slim down to size zero after giving birth.
Bryce Dallas Howard is clearly taking her time to drop the pounds following the birth of her second child.
The Help star, who welcomed her daughter in January, was photographed on the streets of Los Angeles over the weekend, looking almost bigger than she did while pregnant.
Wearing a striped hoodie with bright blue sweats and moccasins, director Ron Howard's daughter, who has publically revealed that she struggled with post-partum depression after the birth of her son, Theo, 5, looked nothing like she did playing Hilly Holbrook in The Help.
Article continues below advertisement
"Before Theo was born, I had been in good humor about my 80-pound weight gain, but I was now mortified by it," she revealed on Gwyneth Paltrow's blog GOOP about the difficult time.
"I felt I was failing at breast feeding. My house was a mess. I believed I was a terrible dog owner. I was certain I was an awful actress."
RELATED STORIES:
Anne Hathaway's Super Skinny Bikini Beach Body!
Sexy Shopper! Mariah Carey Hits Mall In Ridiculously TINY shorts
Trainer To The Stars Gunnar Peterson Reveals His Hollywood Workout
Stick-Thin Model Anja Rubik's Hip Bone Flash Encourages 'Starvation Tactics'