Sobbing Manhattan Beauty Charged With Attempted Murder, Allegedly Stabbed Live-In Lover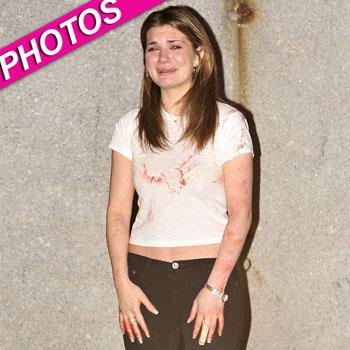 A bloodstained 22-year-old beauty was hauled away in handcuffs in New York in the early hours of Friday while her boyfriend was rushed to hospital with severe stab wounds.
Cops took Yekaterina Pusepa away as a photographer took pictures of the sobbing 22-year-old.
Wearing skin-tight jeans and high-heel boots with blood stains covering her arms and her white T-shirt, her macabre appearance was like something out of a Hollywood horror film.
Article continues below advertisement
According to the New York Post, the Manhattan beauty was in court Saturday, charged with assault and the attempted murder of her lover Alec Katsnelson. She didn't enter a plea and has been held on $125,000 bail.
Meanwhile Katsnelson, 26, is recovering from surgery on his wounds. Pusepa allegedly pierced his chest wall, lung and heart, according to court papers.
The lovers – who live in a $2,300-a-month apartment – reportedly have a tempestuous relationship and their neighbors have complained in the past about their noisy fights.
One resident told The Post that their fighting escalated on Friday. "I heard a lot of yelling, two people screaming," said a student living in their building. "A lot of the screaming was coming from a woman. She was screaming more and louder. It was anger and hostility like someone making threats."
According to evidence presented in court, Pusepa was heard yelling for someone to call 911, shouting "There is someone bleeding on the street – he's either shot or stabbed!" She then dragged his blood-soaked body from the second-floor apartment down onto the street and lay on top of him until cops arrived.
Pusepa reportedly told police that she acted in self-defense. But when Katsnelson woke up from surgery he apparently told police that she "stabbed" him with one of two kitchen knives found at the scene.
His distraught mother Lena told The Post: "He's in love with her. I tell him this is the wrong relationship but he wouldn't listen."
RELATED STORIES: