Top Model Bloodbath! Tyra Banks Axes Miss J, Jay Manuel and Nigel Barker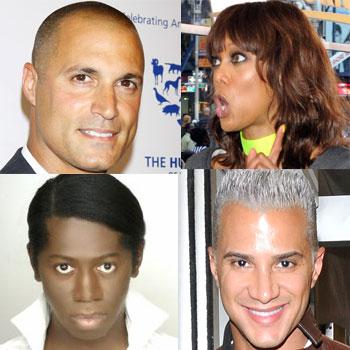 They say in fashion; one minute you're in and the next you're out.
And Tyra Banks wielded a triple axe on her long time America's Next Top Model colleagues by axing most of them this week.
The 38-year-old fashion mogul has worked with creative director Jay Manuel, runway trainer J. Alexander (known as Miss J) and photographer Nigel Barker for the length of the long running series, which premiered in 2003.
Article continues below advertisement
But there's no loyalty in the modeling world and all three of them have not had their contracts renewed for next season, according to the New York Post's Page Six.
The 18th season of the show is currently airing where they are pitting American hopefuls with their counterparts from across the pond in "The British Invasion."
But the trio are not being asked back because of a "production decision" and "major changes are planned for season 19."
Tyra took to her Twitter page to confirm the news.
"To my Nigel Barker, Miss J, and Mr Jay: Thank you for all of our years together on America's Next Top Model," Banks wrote. "Working with you is always an absolute pleasure. Excited for what the future holds for us."
People's Revolution public relations maven Kelly Cutrone took over from Vogue editior-at-large, Andre Leon Talley this season and more changes are afoot.
Article continues below advertisement
The show, which promises to change the life of a fledgling model, is apparently eager to become more social media savvy and have approached bloggers and fashion industry favorites to update the flavor of the show.
"Nigel Barker, Jay Manuel and J. Alexander have been an integral part of the America's Next Top Model brand and they helped turn this show into the household name it is today," executive producer Ken Mok said in a statement.