Trayvon Martin's Parents 'Have A Sense Of Peace' After George Zimmerman's Arrest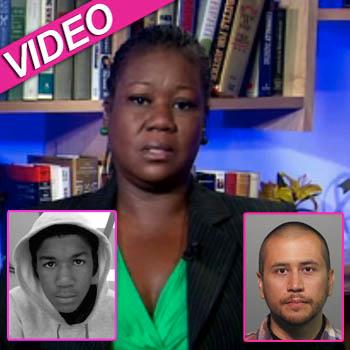 Trayvon Martin's parents Tracy Martin and Sybrina Fulton say they have a sense of peace following Wednesday's arrest of the man who shot their son, neighborhood watch volunteer George Zimmerman.
The poised pair appeared on Good Morning America Thursday via a satellite hook-up from Washington D.C., seeming subdued and relieved that action had been brought against Zimmerman, who faces second-degree murder charges in the February 26 shooting.
Article continues below advertisement
Zimmerman will plead not guilty to the charges, his attorney Mark O'Mara said, adding he hopes to have his client out on bond Thursday afternoon. He added his client is understandably "scared" about the recent events, as a conviction could result in a life sentence behind bars.
On GMA, Fulton said when she learned Zimmerman had been taken into custody, she "was overwhelmed," shedding tears of joy.
"We've always believed that once the evidence was examined properly," Martin said, "that we would receive a call that there were charges against Zimmerman."
Fulton added, "We have a sense of peace right now, because we know that the person that shot and killed our son is accountable for it.
"We can't really say what the outcome will be, but we've committed to this journey."
Fulton told Robin Roberts she was very grateful for the outpouring of support from the community.
"I just want to say thank you," she said. "It's good to know that there were people that were supporting us … it's just overwhelming, it really is. We just really appreciate so many people reaching out to us letting us know that we are not alone."