Thomas Kinkade's Widow Wants Restraining Order Against His Mistress!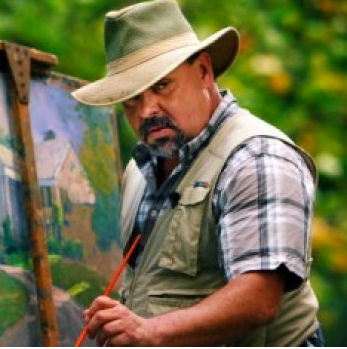 The Thomas Kinkade story just got a whole lot darker. The so-called Painter of Light, who died earlier this month, was secretly separated from his wife Nanette, and had been living with Amy Pinto-Walsh for 18 months at his mansion in Los Gatos, Calif.
Now Nanette Kinkade and the Kinkade Family Trust have requested a retraining order against the mistress.
Their request, to be heard by Santa Clara County Superior Court Judge Patricia M. Lucas on Tuesday, wants to ban Pinto-Walsh from "defaming, criticizing, disparaging or discrediting Kinkade, Nanette Kinkade, or any company owned by Kinkade," reports the Los Gatos Patch.
Article continues below advertisement
It also seeks to prevent Pinto-Walsh from publishing anything about Kinkade or his businesses, or about Nanette.
Pinto-Walsh, the court docs say, signed a confidentially agreement with the Trust in February, 2011, because she was working as the painter's personal assistant, and the restraining order is seeking to enforce that.
But it's alleged in the petition that she has now "announced to a friend of the Kinkade family" that she plans to go public with information about Kinkade and sell private photographs.
As RadarOnline.com reported, Kinkade died at age 54, and his sudden death triggered an autopsy. His family initially said he'd died on April 6. In fact, the restraining order reveals, he died on the 5th. And it has since come out that Kinkade, a recovering alcoholic, had fallen off the wagon and had been drinking heavily in the 24 hours before he died.
The final autopsy results are still pending.
RELATED STORIES: