Italian Soccer Star Piermario Morosini, 25, Dies During Match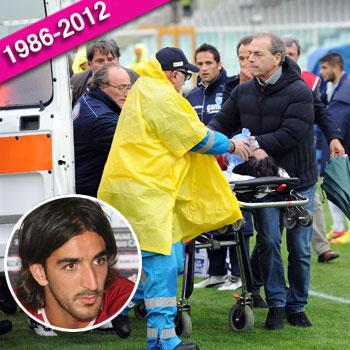 Italian soccer star Piermario Morosini collapsed and died in the middle of a match today Saturday in front of a stunned crowd.
The 25-year-old Livorno midfielder had played for just over 30 minutes when he suddenly fell to the ground.
He was playing against rival team Pescara whose general manager Danilo Iannascoli told Sky Italia that the young player suffered "three cardiac arrests in quick succession."
Article continues below advertisement
Fans and players were left devastated as they watched a defibrillator being used to try and revive Morosini but to no avail. He was pronounced dead when he got to the hospital, according to the AP.
Italian media are reporting that Morosini's journey to the medical center was delayed because an unattended traffic police car that was blocking the ambulance's path as it tried to leave the grounds. Authorities had to break the car window so the vehicle could then be moved.