Don't Worry Ladies: Marilyn Manson is STILL Single!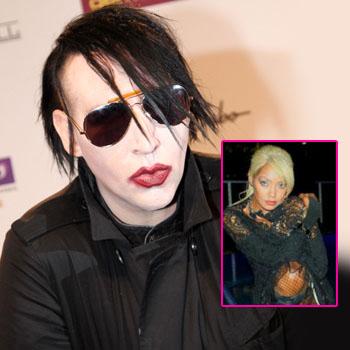 Marilyn Manson's "fiancée" was reportedly "over the moon" that her boyfriend of just five weeks proposed to her last Thursday — but someone better inform him, as he claims he's never even met the woman!
A rep for aspiring actress Seraphim Ward shared the happy news with Life & Style magazine, going on to confirm with E! News that "Seraphim has recently made a life commitment to her partner and couldn't be happier!"
Article continues below advertisement
Ward, 27, who describes herself as an "independent filmmaker," tweeted a photo of her alleged engagement ring Saturday with the caption: "OMG!" Following up Sunday with: "I am still speechless and in shock!"
But don't break out the bubbly just yet, as a rep for the 43-year-old rocker, whose real name is Brian Warner, completely denies the story, telling US Weekly: "This is untrue, he has never met this woman."