Krysten Ritter & James Van Der Beek Team Up For 'Trust' Fun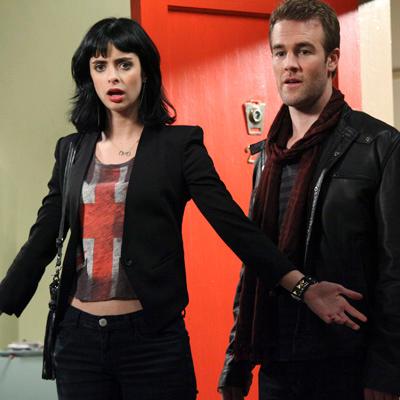 She sold one roommate's hair to a wig company and swapped another's birth control pills with breath mints. Yeah, it's safe to say Chloe (Krysten Ritter) is the housemate from hell.
"If Holly Golightly and Satan had a child, it would be her," says Krysten, but there's a method to Chloe's madness. On the edgy new comedy Don't Trust the B---- in Apartment 23, her plan is simple: collect rent money from bright-eyed new arrivals to New York, make their lives miserable, chase them away and keep the profits.
Article continues below advertisement
Chloe's newest mark is June (Dreama Walker), an Indiana girl whose job and company-supplied apartment fall through when her boss is hauled off to jail. Desperate for a place to live, she moves in with Chloe, who promptly swindles her. But June soon catches wind of the scam and turns the tables on Chloe, selling her furniture and earning a little respect.
"June outsmarts Chloe, and that's part of what makes her like me in the end," Dreama explains. "It's a special little dynamic we have." The result makes for one of Manhattan's most unlikely living situations — and that's saying something.
While many consider this Krysten's breakout role, the real scene-stealer is James Van Der Beek. He plays himself — or, rather, a self-centered, blowhard version of himself — who is Chloe's ex-boyfriend and current BFF. "This character is really sweet, but he's completely narcissistic," says the Dawson's Creek alum. "I said, 'Don't ever be afraid of offending me. Let's always go for what's funniest and see where it takes us.'"
Though James is having a ton of fun on set, there is a downside to playing a guy who tells boring Hollywood stories and uses his old Dawson's flannel to seduce women.
Says James, "Every once in a while I come back home to my daughter and say, 'Sorry for what I'm doing to the family name, kiddo.'"