Get Brooklyn Decker's Body! Her Trainer Reveals Her Stay-Fit Secrets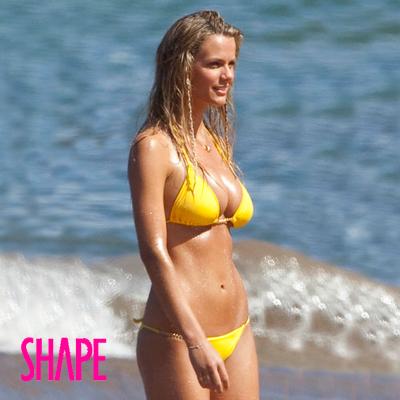 Bikini model turned big screen bombshell Brooklyn Decker has one of the hottest bodies in Hollywood, but the former Sports Illustrated Swimsuit Edition cover girl has to hit the gym to keep her curves tight!
Shape magazine spoke with one of the Battleship babe's trainers, who revealed how Brooklyn likes to break a sweat.
"She is very coordinated and likes to push. Brooklyn works hard and has fun while she's at it," says veteran celebrity trainer Jade Alexis, who worked with the sexy supermodel-turned-actress for an Elle Magazine workout DVD.
Article continues below advertisement
In preparation for the DVD, Alexis and Decker did a series of cardio circuits,mixing drills, and movements from basketball, soccer, tennis, and boxing. "Brooklyn is very athletic and picked everything up quickly, especially the boxing!" Alexis says.
To learn more about Brooklyn's diet and workout, and to get more exclusive stay-fit tips from Jade Alexis, visit Shape.com by clicking here.