Turkish Airlines Plasters Faces Of 17,000 Of Its Employees On A Plane!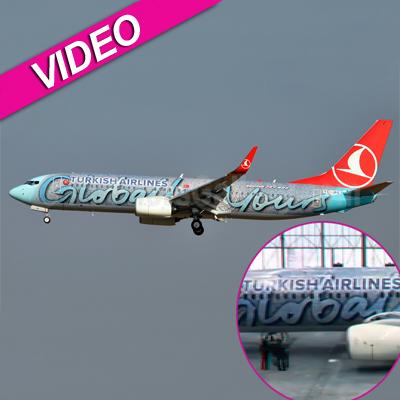 Now that's a way to run an airline!
Turkish Airlines recently surprised more than 17,000 of its employees across the world by decorating a brand new Boeing 737-800 airplane from nose to tail with photos of them!
As you can imagine, this was no small task. It took four months to complete, and you can see the process -- from start to finish -- in the special time-lapse video below.
The ceremonial unveiling took place at the Turkish Technic Hangar in Istanbul and the custom B-737 will join the airline's fleet, flying to destinations across the global network for one year.
Article continues below advertisement
The entire project was made possible thanks to the work of twenty staff members who helped designers create the photo montage and apply the final design.
Established in 1933, Turkish Airlines was recently named Europe's Best Airline by the world's largest airline review site, Skytrax.
"We are committed to transforming airline travel into a memorable experience from the moment they board our planes until they reach their final destination, regardless of whether they are sitting in Economy, Comfort or Business Class," Turkish Airlines General Manager, Dr. Temel Kotil said in a statement. "From our award-winning five star gourmet cuisine and our world class in-flight entertainment to our impeccable service, Turkish Airlines sets a new standard in air travel that is rare in the industry."
Travelers on Turkish Airlines can fly from the U.S. to 190 destinations around the globe via Istanbul and in an effort to accommodate its rapid global expansion, the airline says it is committed to adding 19 new airplanes in 2012, along with new routes and destinations. In addition to Europe, Turkish Airlines has strategically expanded into Russia, Central Asia, the Far East, the Middle East, Africa and The Americas. The airline recently announced new Balkan routes and continues to expand service from its U.S. gateways of Chicago, New York, Los Angeles and Washington, D.C. -- all of which offer non-stop flights to the airline's Istanbul hub with convenient onward connections.