Guardian Girls Make Safety Sexy!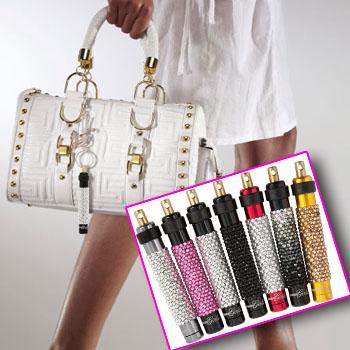 Guardian Girls has a revolutionary new product that turns self defense into a fashion statement.
The custom-designed and handcrafted line of Swarovski jeweled pepper sprays are called the Winged Edition and are a must-have for the woman who wants to be safe and in style.
Founded by Yvonne Anderson, Guardian Girls product sales benefit the Guardian Girls Foundation which donates 100 percent of proceeds to establish organizations that aim to improve the lives of women and families.
Article continues below advertisement
"It takes the support of every woman to make this dream come true; personal safety is a mindset and lifestyle choice," Yvonne, who is a breast cancer survivor and mother, has said about her charity.
Guardian Girls has a complete line of accessories, services and training that provide quality defense products with bling style that help keep their owners sexy, sophisticated and safe.
RELATED STORIES:
Friends With Benefits? Kim Kardashian Rocks Kanye West's $6K Shoes
Haute Or Not? Rocking And Shocking Star Style At Paris Fashion Week
Mischa Barton On Fashion, Life In The Public Eye & How She Deals With Haters
Rachel Bilson On Style, 'If You Feel Like A Slut, You Probably Look Like One'