Director Elliot London: The Traumatic Teenage Experience Behind My New Movie 'FRIEND'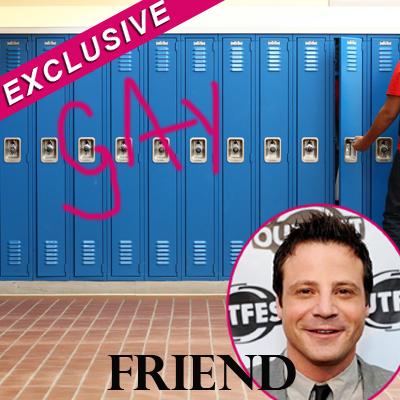 By Neil Woulfe - RadarOnline.com Senior News Director
At first glance, filmmaker Elliot London appears to be a strikingly handsome, charismatic young man living his dream of living and working in Hollywood -- and he is.
But when you look closer, you'll find a deeply committed, 31-year-old native Aussie who, as a teenager, grew up frightened and ashamed in Rockford, Illinois because, like so many young people, he was hiding a secret -- he was gay.
Article continues below advertisement
Now, fresh off the release of his successful short film, The Wedding Dance, a surprising story about marriage equality, London is about to embark on his ambitious new project, a full length feature film called FRIEND, a frank look at anti-gay bullying in this age of Facebook and Twitter when a slur or nasty comment can be seen by hundreds, if not thousands of people in an instant.
Just as he did with The Wedding Dance, London is once again taking the innovative approach of using social networking to raise money to fund the project with profits going to organization that help gay youths at risk.
For months, RadarOnline.com has been following London's budding filmmaking career, and now, we speak with him about his latest passion project, FRIEND, and why it's so close to his heart.
RadarOnline.com: Your new movie FRIEND takes a frank look at anti-gay bullying in this age of Facebook and Twitter. Tell me about the story.
Elliot: It's set current day. Brad, newly sixteen and discovering who he is, attends Marlen High School outside of Chicago. Brad is no stranger to not fitting in, but when the bullying in high school gets to become too much, he starts to think of drastic ways out. Fortunately, a new kid moves into town and starts at Marlen High School just when the timing couldn't be more perfect.
Article continues below advertisement
Rob, who is way wiser than anyone his age and has the charisma of a movie star, befriends Brad instantly. Rob could be wasting his time becoming high school quarterback and having any girl he wants, but instead he makes it his duty to help save this gay student from making the choice that ends all choices.
We, as an audience, experience friendship, coming out, first love, and of course heart-break. This story being told in current time with the realness of coming out gay in a world which revolves around YouTube, Facebook, and Twitter. Don't worry, if you know me, there will be a twist!
RadarOnline.com: I know this story is deeply personal to you. Tell me about your memories of being bullied as a teen, growing up in Rockford, Illinois. Is there one particular incident that is forever seared in your mind ?
Elliot: F*ggot! That word will always resonate with me. It was 1995 -- I remember it as clear as day. I was in 8th grade riding the school bus home. Shawn, a school bully, made me his latest target. I was already a bit different so no one would ever ride next to me on the bus. One spring afternoon on the ride home Shawn called over in an incredibly nice voice ... "Hey Elliot." Being excited that someone was actually going to have a chat with me, I peered my head over the tall bus seat. "Your such a F*ggot," he yells directly to me and hocks a loogie into the center of my face. I was so mortified and de-humanized at that moment that I went into shock. I remember uncontrollably crying. I just could not process what had happened. I just wanted to crawl into a hole and die. I did not want to ever go back to school. I did not want to tell my parents as it would bring up questions of why did this happen. Why was he picking on you? I could not confront who I was because I still did not understand fully who I was.
Article continues below advertisement
RadarOnline.com: Was there anyone you could turn to for help, or did you suffer in silence, like so many young gay people?
Elliot: I suffered in silence. There really was no place or person to turn to. The Internet was still very new in my city. Most incomes hovered above poverty level, so computers were not major investments. Even at my high school, the computers were sparse and limited. I really did not understand who I was, because there was no way for me to attain any resources to educate myself.
RadarOnline.com: Like so many of us, I'm sure you were shocked and saddened by the recent suicides of several bullied gay teenagers, including 18-year-old Rutgers University student Tyler Clementi, who took his own life. What would you say to teens like Tyler, who feel they have no other solution than to kill themselves?
Elliot: I will never forget this day: my colleague Sandra Valde & I just arrived in Louisville, Kentucky to shoot a project when we were in the rental car and listening to the radio. I could not believe what I just heard out of the news anchors mouth. Teenager Tyler Clementi takes his life after roommate posted images of Tyler making out with another man on Twitter. My eyes teared up, and I knew at that very moment that change was going to happen. Tyler's only safe haven -- being his computer -- was used against him in the most horrible cyber bullying act imaginable. I wish I could look into Tyler's eyes and tell him that he is loved and that it's OK to be who he is. That you have a huge future ahead of you and that you will inspire, lead, and create change. Tyler, your life was not in vain. It just breaks my heart and soul.
Article continues below advertisement
RadarOnline.com: At what point in your life did you begin to come to terms with your sexuality and to live life as a proud gay man, and how did that change impact your life?
Elliot: I began to really come to terms with myself when I was 18. I was able to go out and explore more. I found books and magazines that helped me identify who I was. The burden of carrying the lie of who you are becomes heavier and heavier when you start coming to terms with being gay. The moment you start to love who you are, will you start telling people. The moment that you lessen the burden you are carrying around. Being happy and living a life as an openly gay man has made me stronger as an individual.
RadarOnline.com: As you did with the short, The Wedding Dance, once again you are using social networking to fund this project. However, while the budget for 'Wedding' was a modest $12,000, since FRIEND is a full-length feature, your budget is more expensive -- $150,000. I'd imagine it's much more challenging raising that kind of money.
Elliot: Absolutely a challenge! You know how much I love to use my "Elliot's Starbucks Model." It takes only 40,000 Frappucinos to make this film. Divide it by the population of 307,000,000 in the USA, and I try to think that the challenge can be triumphed. I am trying to make a 90-minute film on a tenth of the budget that a major independent film is made on!
Article continues below advertisement
RadarOnline.com: Explain how people can donate, and what, if any perks they receive for their contributions.
Elliot: Please ... please ... donate at www.indiegogo.com/myfriend. You can contribute as low as $1 and or much as your heart desires. With a donation of $25 gets you a poster. My favorite is the $200 donation, which gives you the opportunity to send a personal note to a High School GSA. (Gay Straight Alliances).
RadarOnline.com: Even though you are based in Los Angeles, you intend to shoot the film in Chicago. Why there?
Elliot: Bring it home; that is what I believe in. I grew up in Rockford, so I must shoot as much as I can there, followed by Chicago, which is one of the best characters in any film. The city brings so much to film on its own. I had some incredible life experiences in Chicago. It would be a disservice to shoot this story anywhere else than Illinois.
Article continues below advertisement
RadarOnline.com: I understand you intend to donate some of the profits of the film to organizations that help gay teens.
Elliot: I feel that it is only the right thing to do by giving profit back into the community. If the movie is funded by the masses, than the moral thing to do would be to give it back to the masses. By using the self-distribution model and going directly to iTunes, Netflix, & Amazon, we cut out the costs of having to pay the distributor.
Once we are in the distribution process, we will be able to use the profits to do three things:
1. Distribute DVDs to high-school GSAs across the country. Each DVD having a personal note from the donors that help fund the project with as little as $50 donation.
2. Set up a scholarship for LGBT high-school youth.
3. Spread profit to local at-risk youth organizations.
RadarOnline.com: As part of your commitment to helping gay teens, for the past several years, you've returned to your old high school in Rockford, Illinois to talk to the school's LGBT organization.You recently met with the kids. Tell me about that experience and what your message is to the kids.
Article continues below advertisement
Elliot: It is always such an honor to go back to my high school and talk to the gay teens. I tend to forget that I live in an urban dwelling where being gay is the least of my concerns. My eyes always open up wide again, and I listen to what every teen has to say. I am constantly holding back tears, trying to keep my game face on. The stories that these teens live with could break the person with the coldest of hearts. When a child tells me that they cut themselves because they feel it is so wrong to be gay makes me more determined to make this film. I always tell these kids that there is a whole world out there and that these might be your hardest years, but the future years will be yours to change and inspire the world.
RadarOnline.com: Finally, when do you hope to begin shooting FRIEND, and when will it be released and where?
Elliot: Well, we have 37 days to raise this money to make FRIEND. Our goal is to be in production and shooting in July with an October 1 release. I feel it is so important to release this film on National Coming Out Day.
The sound track to The Wedding Dance is available from itunes. Only $0.99 and all the proceeds are going to fund the feature film FRIEND.
Become a Friend to the feature film FRIEND and follow the journey of seeing the film being made.