Mary Jo Buttafuoco Remarries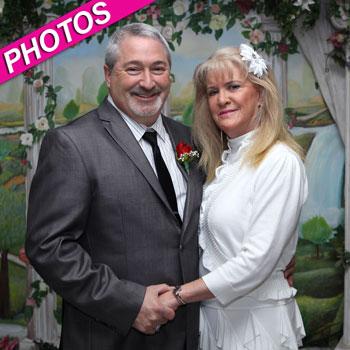 Almost 20 years since the day she was shot in the face by her then-husband's teen lover, Mary Jo Buttafuoco has remarried, RadarOnline.com is exclusively reporting.
Mary Jo, who has recently been going by her birth name, Connery, exchanged vows with Stu Tendler in Las Vegas.
Mary Jo wore a flattering white ensemble, including a white flower in her hair. The groom opted for a traditional suit and tie, with a red rose boutonniere.
Article continues below advertisement
In one of the most infamous love triangle stories of recent times, on May 19, 1992, 17-year-old Amy Fisher, who was having an affair with 36-year-old Joey Buttafuoco, attempted to kill Mary Jo.
Incredibly, May Jo survived the shot to her face, but in the years since, she's endured numerous surgeries. She also lost the hearing in one ear.
Both Joey and Amy, dubbed the Long Island Lolita, have had numerous run-ins with the law over the years since their affair.
Mary Joe wrote a book about her experience.
Her new husband is a print shop manager in Vegas, where the couple now lives.
Congratulations!
RELATED STORIES: