Emma Roberts' New Man Revealed -- 'Lord Kasper' Hogan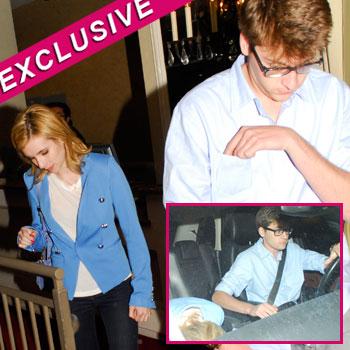 From Chord to Lord! Emma Roberts has landed herself a new boyfriend and RadarOnline.com can exclusively reveal who he is.
She only split from Glee star Chord Overstreet a few weeks ago but the young actress isn't wasting any time being single and is now dating Kasper Hogan a young Brit, who refers to himself as 'Lord Kasper.'
The pair - who met at the Chateau Marmont - have been spotted on a number of dates over the last two weeks.
Article continues below advertisement
However the Valentine's Day and Hotel for Dogs star might want to take a closer look at her boyfriend's Twitter page which he updates regularly with comments about women, break ups and "getting laid."
"I drop my name to get laid," wrote Kasper in September after making reference to how many beautiful women he had seen that day.
Another one read: "If you are 19 and have cellulite do you really think I'm going to buy you a drink?"
And it appears he's had a bad break up recently too as he posted: "Worst thing about breaking up with a girl is knowing you've trained her so well for the next guy."
Maybe his luck is changing with Emma however as he made reference to "a rather special girl" on another one of his social networking pages.
While it's unclear exactly what he does for a living Kasper is telling his Hollywood pals he is part of the family that controls the luxury Mandarin Oriental hotels, a source tells RadarOnline.com.
Of course, Emma is part of Hollywood royalty.  Her aunt is Oscar-winner Julia Roberts and her dad is Oscar-nominated Eric Roberts.
RadarOnline.com reached out to Emma's reps for comment on the new relationship but they did not respond.
RELATED STORIES: