Soap Actor Nick Santino Commits Suicide, Regretted Putting Down Beloved Dog In Condo Dispute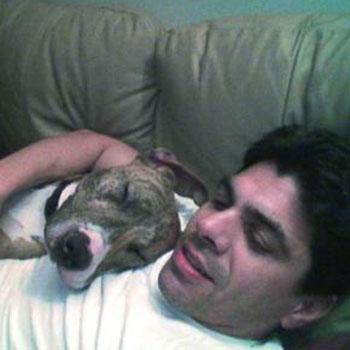 Soap actor Nick Santino committed suicide after being overcome with guilt for putting down his healthy beloved pit bull, Rocco.
The Brooklyn born performer had become embroiled in a doggy dispute with his neighbors at his upper West Side condo, according to The New York Post.
Santino apparently felt under pressure to get rid of his pooch after the policy in the building changed disallowing any new pit bulls to live there.
Article continues below advertisement
Although as a current resident Santino was legally allowed to keep Rocco in the building, he was allegedly harassed by neighbors for months who wanted the dog gone from the building and made life difficult for him.
So last Tuesday, on Santino's 47th birthday, he had his best friend euthanized.
But the struggling actor, who has had parts in All My Children and Guiding Light, immediately regretted his decision and his grief was too much, leading him to take his own life.
Santino's body was found on Wednesday after overdosing on pills. He had made a final call to an ex-girlfriend at 2 am before killing himself.
"Today I betrayed my best friend and put down my best friend," Santino wrote in a suicide note according to his friend Stuart Sarnoff.
"Rocco trusted me and I failed him. He didn't deserve this."
Santino adopted Rocco from a shelter several years ago and had posted on his Facebook that he "did not rescue Rocco, Rocco rescued me."