Penn State Scandal: Patriots' Bill O'Brien Hired To Replace Joe Paterno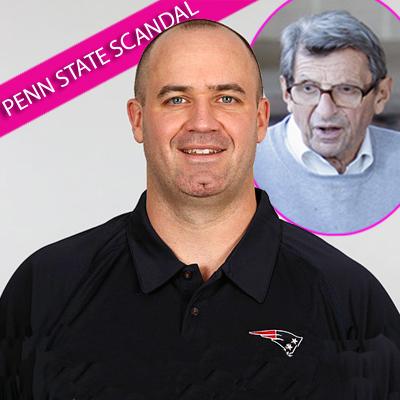 New England Patriots offensive coordinator Bill O'Brien will replace Joe Paterno as Penn State's head football coach.
O'Brien's hiring will be announced by the university on Saturday, ESPN reported Thursday night. The 42-year-old will finish up his stint with Tom Brady -- who calls him a "great coach and friend" -- and the Pats at the conclusion of the NFL post-season.
Paterno, the longtime face of the institution was fired November 9 after 46 years on the job in the wake of the molestation scandal involving former defensive coach Jerry Sandusky. (Specifically, Paterno's ouster came as a result of a perceived non-response to a 2002 report from graduate assistant Michael McQueary that Sandusky had raped a 10-year-old boy in the school's locker room showers.)
Article continues below advertisement
As RadarOnline.com has previously reported, Sandusky is accused of molesting a dozen boys from 1994 to 2009. Among the 50 criminal counts he's been accused of include: involuntary deviate sexual intercourse, corruption of minors, endangering the welfare of a child, indecent assault and unlawful contact with a minor, along with single counts of aggravated indecent assault and attempted indecent assault.