Retired NYPD Detective Guilty Of Attempted Murder After Setting Wife On Fire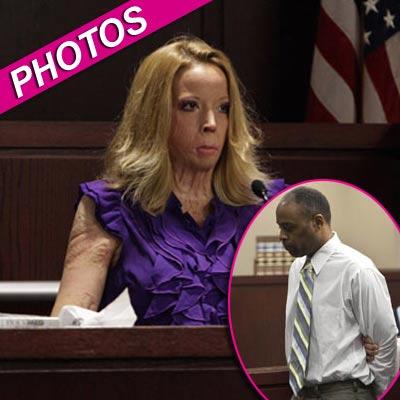 A retired NYPD detective was found guilty of attempted murder, aggravated battery and arson on Thursday after attacking his wife with a hammer, dousing her in gasoline and setting her on fire.
Christopher Hanney, 46, of Tampa Bay Florida, attacked his estranged wife, Audrey Mabrey, 29, because she told him that she was divorcing him, reports The MailOnline.
The couple were sharing custody of their two children and living separately when Mabrey stopped by their marital home in November 2009 and Hanney attacked her.
Article continues below advertisement
Hanney forced Mabrey into his garage and tried to rape her before going on to strike her four times with a hammer and using one of her scented candles to set her alight.
Mabrey was in a coma for a month after the horrific attack and had seven surgeries in total. Eight per cent of her body is still scarred from the burns.
Hanney claimed he was the victim though throughout the trial. The ex-cop said that he was tied to a chair and had a gun put to his head by his wife with an armed, masked accomplice. He went on to claim that she threatened him with a lit candle and a bottle of gasoline and that he kicked her in self defense, spilling the gas and engulfing her in flames.
Prosecutor, Jennifer Gabbard, shot down this theory, claiming that Hanney had a full two years in jail to concoct his elaborate story, explaining: "This defendant decided to kill Audrey Mabrey because he finally figured out that he lost her."
The jury agreed and found Hanney guilty of the brutal attack — he is now facing life in prison. Mabrey has since become a campaigner against domestic violence.
"I'm just relieved," she said of the verdict.
RELATED STORIES: