Mariah Carey: Please Pray For Nick Cannon, Hospitalized After Mild Kidney Failure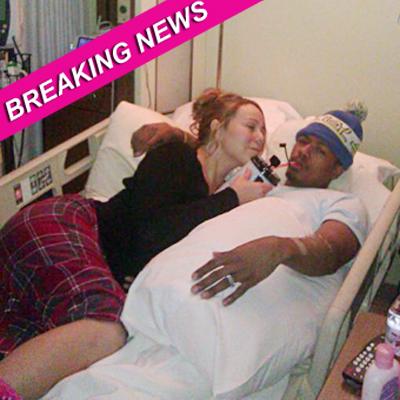 Mariah Carey's husband Nick Cannon is being held in an Aspen, Colorado hospital with "mild kidney failure," the singer wrote on Twitter Wednesday.
The message was accompanied by a pic of she and the America's Got Talent host in a hospital bed.
"We're trying to be as festive as possible under the circumstances but please keep Nick in your thoughts because this is very painful," Carey, the mother of Cannon's twins Moroccan and Monroe, wrote in an expanded message on her website.
Article continues below advertisement
The Someday singer wrote that doctors "tried to kick me out of the hospital but here I am on the bed with" Cannon, 31.
"We're doing OK but we're stranded in Aspen," Carey, 41, continued. "I know, we could be in a lot worse places, but the truth is as long as we're together, we're OK.
"I'm not trying to make light out of the situation because it's a serious moment that's very tough on all of us. So please keep us and our family in your prayers."