'Mentalist' Star Amanda Righetti Reveals Her Diet Secrets!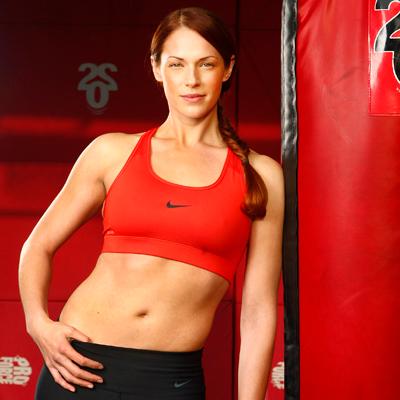 The Mentalist's Amanda Righetti has modeled and acted since the age of 14, but she says that staying fit is her real life's work.
"I became very aware of having to eat healthy and exercise and stay in shape at a young age," she told Star during an interview at Santa Monica's 220 Fitness gym. "The older I get, the more I'm learning about the myths that are behind working out, diet and exercise. It's a lifestyle."
Article continues below advertisement
That means hitting the gym for 30 minutes of cardio and an hour with a trainer every day. "If I was not in the gym every day, I would be a house!" Amanda, 28, quips.
"I'm a foodie. I love to eat. I love to cook." So even though she counts calories — consuming only 1,300 to 1,500 a day — Amanda makes sure to eat small, nutritious meals every three hours.
A typical day, she says, starts with three egg whites with two pieces of turkey bacon and an orange for breakfast. Celery or carrot sticks make a good midmorning snack before a light salad at lunch, Amanda explains, which is followed by an apple with peanut butter and then a protein-rich dinner. "No starch carbs at dinner," she says. "It is portion control too; everything in moderation."
"I'm on a pretty strict diet, I would say, a good 10 to 11 months of the year," Amanda admits. In Hollywood, she says, "there is a lot of pressure to stay thin.... There have been certain film projects that I've put a lot of pressure on myself to lose weight for."
And sometimes, she says, it's hard to keep from going too far. "I don't weigh myself because I get a little bit OCD with it," Amanda reveals. Instead, she says, "I take measurements."
Amanda sums it up explaining, "I think that you have to find a fine balance between being good to yourself, but also being hard on yourself and disciplined." And clearly, for her, it's working!