File Sharing Website Allegedly Endorsed By Swizz Beatz Shut Down By Feds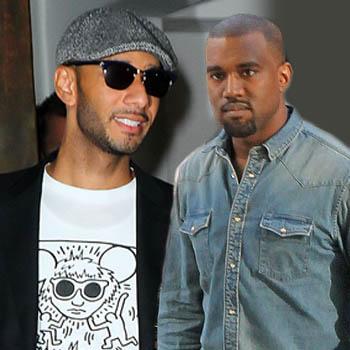 One of the world's largest file sharing websites, which claims to be endorsed by a slew of celebrities, was closed down by the Feds Thursday.
The website, Megaupload.com, lists Swizz Beatz as CEO, and fellow musician, Kanye West amongst it's high profile endorsers.
The AP, via Time's Techland reports that the website founder and several company executives have been charged with violating piracy laws.
Article continues below advertisement
The indictment accuses the company founder, Kim Dotcom, formerly known as Kim Schmitz, of personally raking in $42 million from the sale of "pirated materials" in 2010 alone.
The news comes one day after Wikipedia prevented access to their site for 24-hours in protest of two congressional proposals intended to stop internet piracy.
As RadarOnline.com previously reported, the English version of the popular online encyclopedia went dark, in response to legislation brewing in Congress website officials say would have serious ramifications for anyone who goes online.
"If passed," the Wikimedia foundation said, "this legislation will harm the free and open Internet and bring about new tools for censorship of international websites inside the United States."
The motions in question -- the Stop Online Piracy Act circulating through the the U.S. House of Representatives, and Protect Intellectual Property Act swirling around the Senate -- are strongly supported by the entertainment industry, while opposed by tech giants like Facebook, Yahoo, Twitter, eBay, AOL and Google, who blacked out their logo in support of the one-day statement.
Article continues below advertisement
The Stop Online Piracy Act, specifically, would give the government the right to "blacklist" websites believed to be purveyors of illegally-uploaded content.
Before Megaupload.com was taken down it posted a statement calling the allegations: "grotesquely overblown."
"The fact is that the vast majority of Mega's Internet traffic is legitimate, and we are here to stay. If the content industry would like to take advantage of our popularity, we are happy to enter into a dialogue. We have some good ideas. Please get in touch," the statement said.
Megaupload.com allowed users to download music, films, TV shows and games for free — but made money from advertising and by charging subscriptions to users who wanted a faster download speed.
RELATED STORIES:
Missing Montana Teacher Found Dead
FBI Releases New Video Of Sexy Russian Spy Anna Chapman
Celebrity Hacker Apologizes: 'It Was Wrong'
FBI Pays $2.1 Million in Rewards For Capture of James 'Whitey' Bulger