How Box Office Babe Kate Beckinsale Got Her Underworld Awakening Body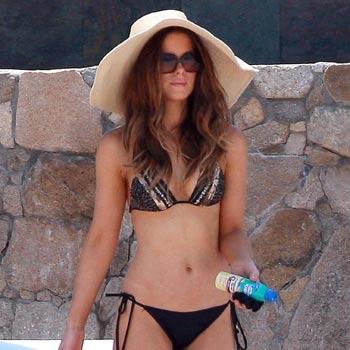 By Leah Ornstein - Radar Style & Beauty Editor
Brit babe Kate Beckinsale dominated the box office this weekend with the latest installment of her Underworld franchise, and if you caught a screening of the action-packed flick it was impossible not to notice her smokin' hot body in that skintight catsuit!
SHAPE magazine has all the details about how Kate got her body ready for Underworld Awakening, straight from her trainer Ramona Braganza.
Article continues below advertisement
"For this movie, she was wearing a tight outfit so she wanted to look fit and curvy but not big," Braganza says. "Because we've worked together before, I know she always likes workouts with yoga-inspired moves."
With her 321 Training Method, which includes 3 segments of cardio, 2 circuits of strength training, and 1 core, along with Braganza's 321 Nutrition Plan, Kate whipped her bod into tip-top shape.