Exclusive
Meet Hollywood's Baroness Monica Von Neumann - Why No One Holds A Candle To Her (Literally!)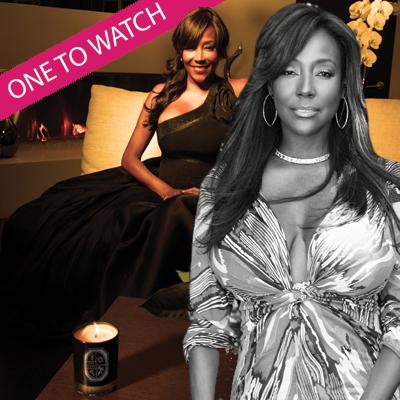 By Neil Woulfe - Radar Senior News Director
She's practically Hollywood royalty -- and definitely one to watch!
Baroness Monica von Neumann -- born Monica Ford in Detroit, Michigan -- is living a fairytale life, of sorts.
She fell in love and married a wealthy Austrian Baron who swept her off her feet and introduced her to the jet-setting life of the rich and famous.
Now on her own after the death of her beloved husband, the stunning Baroness has re-invented herself as a businesswoman, whose mission is to make luxury accessible to everyone.
Article continues below advertisement
RadarOnline.com chatted with the Baroness about her fascinating journey from America's heartland to the glitz and glamour of Hollywood -- and why no one, quite literally, can hold a candle to her!
Radar: Baroness, as a little girl growing in Detroit, could you ever have imaged living the life you lead today?
Monica: Never. Not in my wildest dreams.
Radar: As a young girl, you had a great passion for dance, but I understand you also dreamed of being a CEO. Where did that ambition come from?
Monica: My grandfather worked for a soda factory and took me to the factory. I was impressed with the operations. I wondered at that young age who worked behind the scenes. Ever since then, I was obsessed with big corporations.
Radar: The late Sonny Bono changed your life by introducing you to your future husband -- Austrian Baron John von Neumann -- the first importer of Volkswagens to the U.S., and son of the doctor to the King of England and Spain. Tell me about that chance introduction and what must have been a whirlwind romance.
Article continues below advertisement
Monica: The romance was quite a whirlwind. We met at a dinner party in Palm Springs. I would say he fell in love at first glance. He was quite smitten with my quick wit and attitude. We had a long, insightful conversation and that was that. He soon put the word out that he wanted to get to know me more. Fairly quickly, it was obvious that we were meant to be together. After six months we met, he asked me to marry him. My late husband certainly had a way about himself. He was kind, extremely intelligent, smooth and definitely knew how to treat a woman.
Radar: Your life with the Baron must have been filled with excitement and adventures. What were some of the highlights of your life together?
Monica: Traveling the world, going to South Africa and the eventual birth of our daughter.
Radar: As you mentioned, you and the Baron had a daughter together. Did you ever worry that she was growing up in a life filled with privilege -- a life, I'd image, that was very different from your upbringing.
Article continues below advertisement
Monica: I did worry, but I did made sure that there were certain things in place. The first order of business was to make sure that she was not educated in Beverly Hills. She went to private school in Switzerland. The base of her upbringing was "You are not defined by material things, but by your character."
Radar: Sadly, the Baron passed away from cancer in 2003. How did you personally change as a woman living now on your own?
Monica: It was a rude awakening. I was now mother and father. Also, I had to take over where he left off. Tending to corporations, lawyers, homes, etc. My husband did prepare me over the years.
Radar: Tell me about your personal philosophy that anyone can attain some level of luxury in their life.
Monica: I believe strongly in two things: First, we all a diamond in the rough and use a bit of polishing, whether it is treating yourself to fresh cut flowers or a beautiful candle or a set of nice lines… things that make you feel good. All these things are attainable. Secondly, I believe that everyone deserves to be around beautiful things. Beautiful things do not equate to expensive. There are simple ways to achieve attainable luxury. In my homes, there is quite a mixture: from priceless art to a fabulous art piece from Pier 1. Funny to say that everyone comments on the less expensive piece when they enter my home. No matter what space, you have elegant touches can happen with a budget.
Article continues below advertisement
Radar: Tell me about your signature line of candles. What inspired you to launch the collection and what makes them unique?
Monica: My home fragrance line Baroness von Neumann is inspired by my travels and notable people in my life. I have had the gift and opportunity to travel around the world and experience breathtaking moments. These moments I meticulously put in a candle to share with everyone. Your senses including your sense of smell is a very powerful tool to take you back to places and times in your life. These candles represent decades of happy memories and far off places to be lit for any mood and occasion.
Radar: What is the cost and where can people purchase them?
Monica: Each candle cost $49.50 and I do have a divine gift set for $59.50. All available for purchase on my website www.BaronessCandles.com.
Radar: I understand you are in the process of expanding your empire. Tell me about some of the new products that people can look forward to.
Monica: Currently I am working on a grand suite collection with expansion in every part of your home. I am in the development stage for textiles, flatware, linen and accessories, as well as other collections created for specific areas of the home. I will always pay extra attention to my passion for my inaugural home fragrance collection and my future collections.
Article continues below advertisement
Radar: With your gorgeous looks and outgoing personality, it seems like you'd be a natural fit for a reality TV show like The Real Housewives of Beverly Hills? Would you ever do a show like that?
Monica: With whatever TV project I am approached with I consider several vital non-negotiables. My integrity and self-respect shall always be intact. I have a legacy to uphold for my daughter and my late husband's surname. I will not participate any project that sacrifices that.
Radar: What do you think of the way women -- especially strong women -- are portrayed on reality TV?
Monica: To each their own. It is not my place to judge any woman's decision to be on reality TV. I will say that the camera does film what is real and present. If a strong woman is "portrayed" as honest, integrity, intact and with conviction ... then I am fully confident that they will be portrayed as a simple, strong woman. Now, if a woman screams, fights and stands up for themselves with no tact or self-respect, then that's a different story.
Article continues below advertisement
Radar: I know that giving back is very important to you. Tell me about the charities close to your heart.
Monica: There are many charities and non-profits that hold a very special place in heart: March to the Top is an amazing organization that helps underprivileged people of Africa by providing support in health care, education and conservation. They pay extra attention to building orphanages for children living with HIV/AIDS. I visited Kenya with March to the Top and witnessed firsthand the amazing work they do and will forever be changed by my experiences there.
Inner City Arts is a dedicated organization that provides art programs to inner city communities in Los Angeles. They keep the art programs alive in communities where it is non-existent due to the lack of funding.
Radar: Finally, what's the secret to your success?
Monica: There is no real secret. I always live by a very few rules: Never forget where I come from. Treat everyone with respect and dignity. Always stay true to my identity and always uphold my personal integrity. Most importantly work hard and follow your passion.