2012 SAG Awards: The Help Cleans Up Big!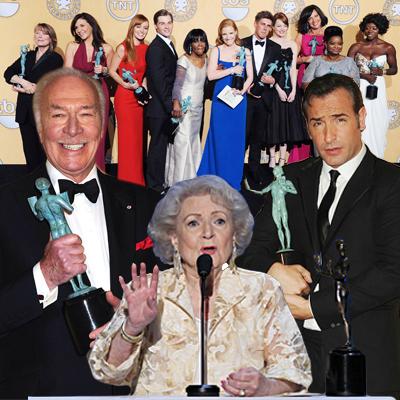 The Help was the big winner at Sunday night's Screen Actors Guild Awards In Los Angeles, taking home three trophies, including the night's top honor -- the award for Best Ensemble.
Click here for a complete list of the winners
In what could be a foreshadow of next month's Academy Awards, The Help's Viola Davis won Best Lead Actress and Octavia Spencer captured Best Supporting Actress for their critically acclaimed roles as oppressed black maids living in the south during the 1960s in the adaptation of the bestselling novel by Kathryn Stockett.
Article continues below advertisement
In accepting their acting trophies, both Davis and Spencer delivered emotional, tearful speeches.
"I want to thank all the people out there who went to support this movie and, after watching it, felt something. You felt compelled to make a change in your lives," Spencer said after accepting her statuette. "So I'm going to dedicate this to the downtrodden, the underserved, the underprivileged, the overtaxed, whether emotionally, physically or financially."
As she walked off stage, Spencer screamed, "this is crazy!"
As for Davis, she graciously singled out her 'Help' co-star Cicely Tyson as an early inspiration in her career and also praised her fellow nominee Meryl Streep.
She also addressed the issues dealt with in The Help, saying: "The stain of racism and sexism is not just for people of color or women. It's all of our burden.... I don't care how ordinary you feel, all of us can inspire change, every single one of us."
Article continues below advertisement
In somewhat of a surprise, French actor Jean Dujardin won Best Actor for his critically acclaimed role of George Valentine in the black and white silent film The Artist. In capturing the prize, he bested such Hollywood heavyweights as George Clooney and Brad Pitt.
In accepting his statue, Dujardin was overcome with emotion as he took the stage. "It's too much," he said. "I was a very bad student. I didn't listen in class. I was always dreaming. My teachers called me 'Jean of the Moon.' I realize now I never stopped dreaming. Thank you very much for this dream."
Fresh off his wins at the Golden Globes and Critics Choice Awards, Christopher Plummer, 82, won Best Supporting Actor for his critically acclaimed role as an elderly man who comes out of the closet in Beginners.
"What fun I've had being a member of the world's second oldest profession," Plummer said. "When they honor you, it's like being lit by the holy grail."
On the TV side, the cast of HBO's Boardwalk Empire won Best Ensemble in a Dramatic Series for the second year in a row, and star Steve Buscemi captured Best Actor in a Drama Series again for his performance in the show.
Article continues below advertisement
Alec Baldwin was named Best Lead Actor in a Comedy Series for his role as network boss Jack Donaghy in 30 Rock; it was his sixth win in a row.
Betty White, 90, nabbed the Best Actress prize for the second year in a row for TV Land's Hot in Cleveland. On stage, she patted the statuette's rear and purred, "Oh, I remember you, sweetheart." She also heaped praise on her 'Hot' co-stars Valerie Bertinelli, Wendy Malick, and Jane Leeves.
ABC's Modern Family won Best Ensemble in a Comedy Series, repeating from last year.
Fresh off her Golden Globe win, Jessica Lange, 62, picked up her first SAG award as Best Actress in a Drama Series for her role in FX's drama American Horror Story, besting The Good Wife's Julianna Margulies and Damages' Glenn Close, among others. During her acceptance speech, she remarked that taking the role in the unusual drama was a "leap of faith" on her part.
Article continues below advertisement