Wilson Phillips: We're Counting on Our Mamas and Papas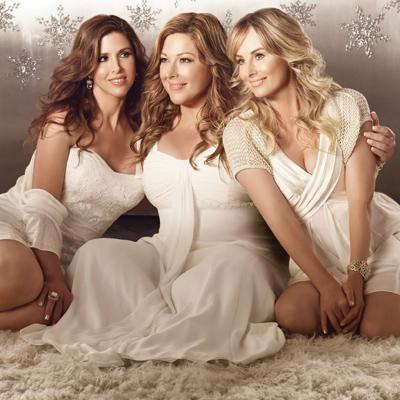 Wilson Phillips are making a bid to reclaim their '90s super-group glory. The pop trio — comprised of Chynna Phillips (daughter of the Mamas and the Papas' Michelle and John Phillips) and Carnie and Wendy Wilson (progeny of the Beach Boys' Brian Wilson) have a brand-new reality show, a slew of tour dates — and a foolproof plan for their new album.
"We're cashing in our parents!" Chynna joked at the Mayo Performing Arts Center in Morristown, New Jersey, where the group performed songs from the upcoming Dedicated — a collection of tunes made famous by both the Mamas and Papas and the Beach Boys.
Article continues below advertisement
The group also sang songs from last year's Christmas in Harmony album, which spawned the AC hit, "I Wish It Could Be Christmas Every Day" — no small feat in today's market.
"It's so hard to get airplay for original holiday material," Carnie said. "One of my friends just heard it on the radio today, and it's such a thrill. We're so grateful."
And busy. In between recording and Christmas caroling across the country, the women each play a very special role at home: supermom.
"We have nine children between us," said Wendy. "I have four boys, Chynna has three children, and Carnie has two boys."
Fans can catch of glimpse of what could someday become Wilson Phillips 2.0 — along with "the three of us bickering," says Chynna — on the TV Guide channel reality show, Still Holding On. The title is certainly apropos — it was named for the group's biggest hit, released 21 years ago — but that doesn't mean it easily passed muster.
Said Chynna: "Wendy texted me and asked, 'Doesn't Still Holding On make it sound like we're ancient?' I texted her back and said, 'Yes. Because we are!"