What To Watch On NYE!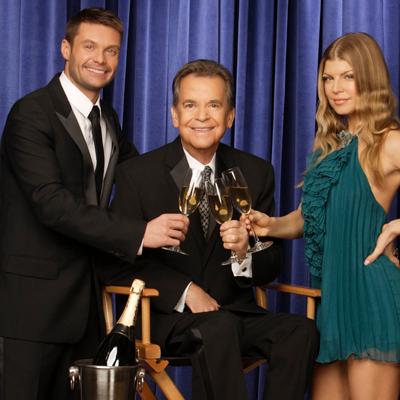 Times Square is cold and crowded -- watch the Ball drop at home!
Dick Clark's New Year's Rockin' Eve 2012 with Ryan Seacrest
Airs 10PM on ABC
Ryan Seacrest (New York) and Fergie (Los Angeles) join Dick Clark for his 40th year of hosting the Times Square ball drop. Look for performances from Justin Bieber, Pitbull, Hat Chelle Rae and Lady Gaga.
NYE In NYC 2012
Airs at 11PM on MTV
Hosts Demi Lovato and Tyler Posey lower the median age of the festivities with this party featuring performances from Selena Gomez, Jason Derulo, Mac Miller and more.
Article continues below advertisement
New Year's Eve With Carson Daly 2012
Airs at 10PM on NBC
Carson Daly counts down to the New Year with two hours of musical performances from Drake, Jessie J and Blake Shelton.