Expectant Dad Robert Downey Jr. Says He's Having A ...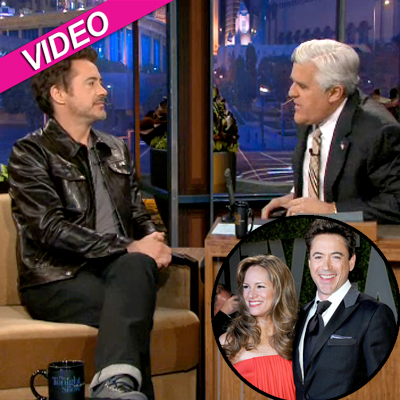 It looks like Robert Downey Jr. will be buying blue.
The A-lister, appearing on the Tonight Show with Jay Leno Monday, said he's expecting a son with his pregnant wife Susan Levin.   
"I am not permitted to discuss it," the Iron Man star said of the baby's gender, before blurting out the news. "I can't say a word -- we're having a boy!"
The Oscar-nominated star joked his wife's pregnancy has been tougher on him than it's been on her.
Article continues below advertisement
"Just the hormones on and the mood stuff and the nausea and the whole thing," he explained of his woes as an expectant dad. "I gotta be careful: I am gonna have to see my wife some time after doing this segment with you, and I think I'm already in trouble."
Watch the video on RadarOnline.com
Downey, 46, has a son named Indio, 18, with ex Deborah Falconer; the baby is due in February.
RELATED STORIES: