Kristen & Nikki: The Fangs Are Out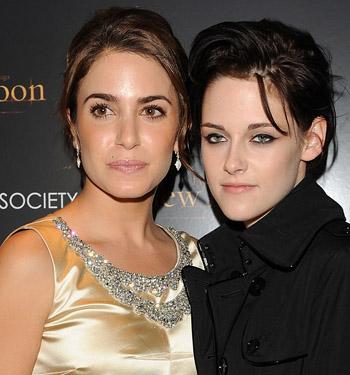 The end of the Twilight series can't come soon enough for best friends turned archenemies Kristen Stewart and Nikki Reed. "They can't stand each other," an insider tells Star. "They don't even talk anymore."
The feud began over their costar, KStew's longtime love, Robert Pattinson. "Kristen has never forgiven Nikki for the fling she had with Rob," the source explains, even in spite of Nikki's recent marriage to American Idol alum Paul McDonald.
Article continues below advertisement
"Kristen never confronted Rob about the affair; she just put the blame on Nikki and accused her of pursuing him."
The insider also reveals that Nikki has another problem with Kristen — her hypocritical attitude toward stardom. "Nikki's the most down-to-earth actress you'll ever meet," says the source. "Kristen acts like she can't be bothered with fame, yet she lives for all the press about her and Rob."
Adding fuel to the fire: Nikki isn't keeping her feelings to herself. "Nikki is very vocal about Kris not being appreciative of her success. Nikki is not one to censor herself to avoid confrontation, and Kristen does not like that."
But Rob, desperate to keep the peace, has been trying to play mediator between the two actresses. "Miraculously, he's been able to maintain a friendship with Nikki. But it won't last — not if Kristen has anything to say about it."