Kendall Jenner Graces Cover Of Magazine; Says People Can Be Mean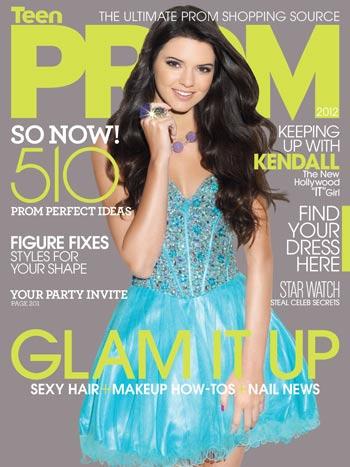 Kendall Jenner is TeenPROM's 2012 cover girl, and in the issue, the young member of the Kardashian clan opens up about her burgeoning modeling career, what it's like growing up around cameras and the valuable lessons from her sisters about dealing with haters.
"They tell me not to listen to what other people say because people are mean," Kendall told TeenPROM. "I just don't look at the Internet and what people say because it can bring you down."
Article continues below advertisement
Kendall, 16, and Kylie, 14, are featured on the family's top-rated reality show, Keeping Up With The Kardashians. Both of the girls are pursuing modeling careers.
"I used to be really shy around the cameras when we started filming, but I think Kylie and I are both used to it now," she said. "It's normal for us."
Kendall said she "was really, really nervous and scared" making her debut on the modeling runway for Sherri Hill at New York Fashion Week this past September.
"I was like, 'What if my walk isn't right?' My sisters told me, 'You'll be fine, you'll do great,' and that made me feel so much better," she recalled. "They said, 'Be you, have fun with it, be confident.' Once I got out there, I felt more comfortable.
"When the lights are up, you can't really see the audience, which made it a little better," she said. "I had a lot of fun -- I want to do it again."