Jodie Foster's Dad Facing 20 Years In Prison For Running Investment Scam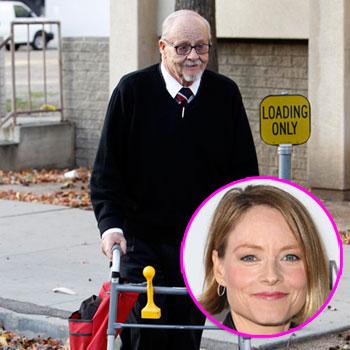 Lucius Foster is facing up to 20 years in prison for allegedly ripping off over two dozen investors, taking more than $130,000 in an apparent housing scam in Los Angeles, The Daily Beast is reporting.
Jodie Foster's estranged dad was in a Los Angeles courtroom on Thursday, charged with 25 counts of grand theft and 10 counts of contracting without a license.
Mincing no words in his opening statement, Deputy City Attorney Dan Cocek said, "Mr. Foster is a liar and a cheat. He has had a scam going for years to steal money from people. A lot of people fell for it. He sounded so convincing."
Article continues below advertisement
According to Cocek, the 89-year-old building contractor bilked each of his clients -- who he found on CraigsList -- out of a $5,000 down payment after he claimed he would build them low-cost modular homes for $85,000. He planned to make the three-bedroom, 2,000-square-foot homes out of metal cargo containers from China.
Foster is representing himself in court.
RELATED STORIES: