Man Fakes Mom's Obit For Time Off Of Work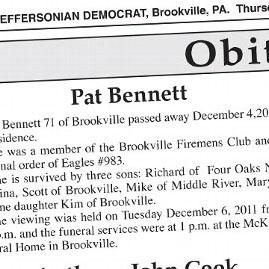 A 45-year-old Brookville, Pennsylvania man wanting paid bereavement time from his factory job submit a phony obituary for his own mother to the local paper to back up his flimflam story, police in northwestern Pennsylvania said.
Police Chief Ken Dworek said Scott Bennett, 45, was fired from his job at a factory, and charged with disorderly conduct, after he submit the fake death notice for his mother to The Jeffersonian Democrat.
Article continues below advertisement
The ruse was unraveled when a number of Bennett's relatives reported the death as false -- then the man's mother visited the office.
"One of the reasons we didn't file more serious charges was he has enough problems as it is," Dworek said. "He was very remorseful and upset ... in 46 years of police work this is the first time I've ever heard of this happening. You think you've heard it all."
Dworek said the man's mother was "rather upset with it all."