The Duggars Plan Memorial For Miscarried 20th Child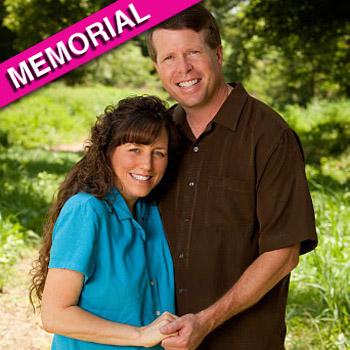 By Amber Goodhand - Radar Reporter
Less than a week after announcing the sad news that Jim Bob and Michelle Duggar miscarried with their 20th child, the couple says they will be holding a memorial on Wednesday for baby Jubilee Shalom Duggar.
"We have had many tears today," Jim Bob told People magazine. "This is life, and I understand that we are going through something that many others have. You think about the what-ifs, but God gives us strength to go on.
Article continues below advertisement
"We won't be able to see this child's life and the phases that we've seen for our other children, but we know we will see this child in heaven one day. We are thankful for each child, and we are blessed to have the children we have here and the ones we will meet someday in heaven."
According to the magazine, Michelle, 45, found out their child no longer had a heartbeat last Thursday, December 8, while at a routine ultrasound appointment. The miscarriage happened naturally at the Duggar family home, but Sunday night she was taken to the hospital because she felt lightheaded.
"We would like to thank everyone for their prayers, emails and outpouring of love," Jim Bob said.
"As our whole family is grieving, we also know that God promises to work all things for good in our lives. Our prayer is that Jubilee's passing will help us all realize that this life is short, and our relationship with Jesus is the most important thing. He gives us a peace in our hearts as He guides us through whatever we might face."
Article continues below advertisement