A History Of Hysteria: Alec Baldwin's Top Five Rants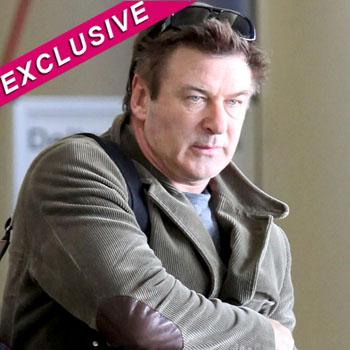 Alec Baldwin doesn't keep his opinions to himself, as American Airlines flight attendants can attest to. After he was kicked off a flight for refusing to turn off his cell phone, he tweeted that AA is "where retired Catholic school gym teachers from the 1950s find jobs as flight attendants.
The outspoken 30 Rock hunk has hardly reserved his anger for the friendly skies, however. The 30 Rock star has a long, detailed history of running his mouth, pointing fingers and name calling whenever something rubs him the wrong way ... which is often.
Article continues below advertisement
With that said, let's take a look at the top five rants of the A-list mouth that roared ...
5. Seething at the Senate: After GOP Majority Leader Dean Skelos cited Baldwin's name in connection with a millionaire's tax, Baldwin asked Skelos to put his money -- and personal records and itinerary for the past decade -- where his mouth is. "C'mon Dean Skelos!! You professional distorted sic of facts!! Join me in a press conference. And bring your tax returns!! Only a Nassau County Republican tool like Dean Skelos could drag my name into a debate on state income tax...he's so dumb."
4. Angry at AOL: After an AOL story said Baldwin had insulted actor Jim Parsons for sending him a gift basket, Baldwin fired up again. He wrote, "I thought that was a joke. I think Parsons knew that. I think anyone on Earth could see that. Except the eighth degree, black belt idiots that compose the AOL homepage...its homepage content is written by the dumbest bastards in the world."
3. Brazen at the Blogger: Baldwin razzed right-wing blogger Michelle Malkin on Twitter over her support of the controversial execution of Troy Davis. He wrote, "Everyone tweet that great thinker @michellemalkin and ask her what killing a potentially innocent man does to make you safer" and "I wonder if @michellemalkin will push the needle in herself on a man the former FBI director said might have reasonable doubt on his side."
Article continues below advertisement
2. Mocha Latte Meltdown: Even coffee-makers are not immune to Baldwin's brattiness, as he tweeted in September: "Starbucks on 93 and B'Way. Uptight Queen barista named JAY has an attitude problem."
And the Number one Alec Baldwin rant of all time:
1. Daddy's Little Girl: In the heat of a contentious custody battle with ex Kim Basinger, Baldwin in 2007 ranted on his then-11-year-old daughter Ireland -- calling her "a rude, thoughtless little pig" -- when she didn't respond to a phone call from him. In a voicemail message he left for the young girl, Alec raged, "I made an a - - out of myself trying to make this call ... You have insulted me for the last time. You don't have the brains or the decency as a human being."