Alec Baldwin Plays American Airlines Pilot On SNL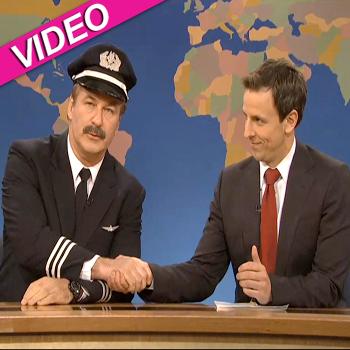 Alec Baldwin made a surprise guest appearance on Saturday Night Live, and it was funny and cringe-worthy at the same time.
Baldwin appeared as AA pilot Captain Steve Rogers, who came on the Weekend Update segment to "apologize" to passenger Baldwin who was booted off one of his airline's planes on Wed.
"Mr. Baldwin is an American treasure," Rogers/Baldwin said.  "That man's a hero."
In what appeared to be an acknowledgment that many -- even at SNL -- think Baldwin was totally in the wrong with his behavior both on the plane and his critical tweets afterward, Weekend Update anchor Seth Meyers suggested to Alec that maybe this wasn't the best way to handle the pr mess.
Article continues below advertisement